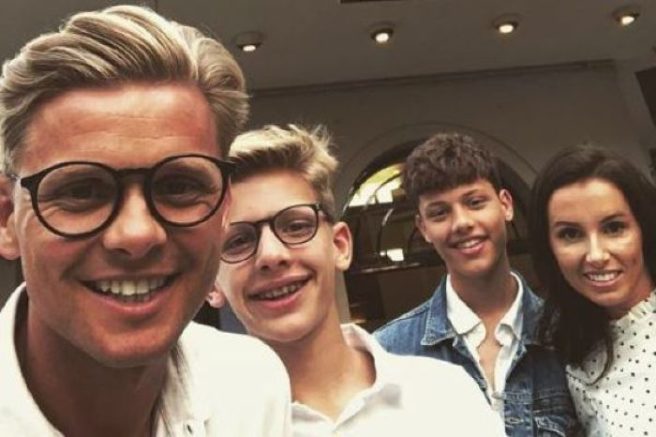 When two people come together to merge as a new family, it's an emotional time, especially if one person has children who need to adapt to a new parental role model in their life.
It's never easy; a mix of impressionable personalities trying to adjust to a new family dynamic.
Someone who knows all about this is TV presenter Jeff Brazier and his sons, Bobby and Freddie. They've all had to adjust as they heartbreakingly lost their partner and mum nine years ago.
Jade passed away from cervical cancer back in 2009, and Jeff has always worked to keep the reality star's memory alive for his beloved boys, and tried to do everything he could to give them a stable and happy family life.
The boys celebrated a wonderful milestone as Jeff married Kate Dwyer. She has shared the first photos of the happy day, and she said how thrilled she was that they were all a family. Jeff's two sons, thirteen and seventeen, also thanked Kate for making their father so happy.
"Dad always said, 'I want to get married one day – I want to find a nice girl.' And he's found that girl who he's going to live with for the rest of his life," thirteen-year-old Bobby said.
"Jeff is the most amazing man I have ever met and I could not wait to be able to call him my husband," Kate told Hello in an exclusive interview. She adorably said that walking towards Jeff and his sons was a "once in a lifetime moment."
Jeff beamingly said he was thrilled to marry his now-wife, and thanked Kate for making their beautiful wedding "a really special one."
"I'm so happy to marry Kate, who has brought so much stability to my life,' Jeff said. 'This isn't just any wedding, this is a really special one. It doesn't just represent Kate and I putting rings on each other's fingers. It represents the fact that we won at something really tricky. We won at becoming a family."
He paid tribute to his wife and said she completed the family and gave his sons a real sense of belonging.
"Before it was just three boys rattling around in a house on our own, trying to get through life. Then Kate came along and worked so hard at making us complete. She hasn't just completed one person, she's completed a family and given three boys a real sense of belonging," he added.
Congratulations to the family on their gorgeous day!