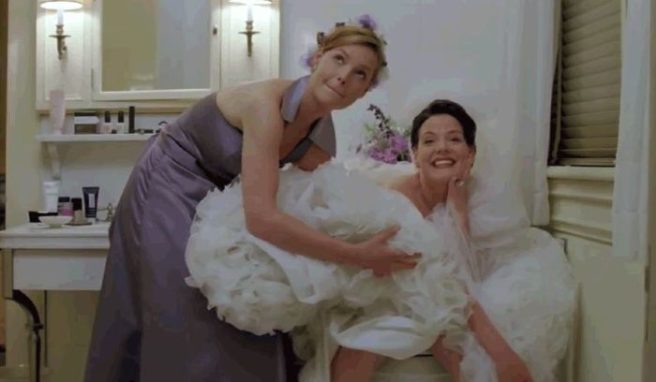 So, you've ever gotten married, been in a bridal party, or even just watched a cheesy rom-com, you'll know that peeing in the a wedding dress is no easy task.
Endless layers of lace and tulle make going it alone next to impossible and brides must rely on their nearest and dearest when nature comes calling.
However, that could all be about to change with the invention of the 'Bridal Buddy'.
.@thebridalbuddy makes it easy for a bride to use the bathroom pic.twitter.com/rOmGY8XNus

— INSIDER (@thisisinsider) January 28, 2018
Much like a slip, the Bridal Buddy fits comfortably underneath any wedding gown.
When the bride needs to go, she must gather the dress around her front and place it in the wearable contraption before putting her arms through the arms hols provided.
Still confused?
Here's a video explaining exactly how it works.
Oh, and one more thing – the armholes mentioned above are trimmed in blue, meaning you'll just need to find something old, new and borrowed.
We happen to think it's absolutely genius, but some Twitter users think it's a disaster waiting to happen?
By the time I do all that lol an accident will happen ha ha

— Licy (@davinci_liz) January 28, 2018
I hear dresses ripping already

— sibby (@findyourwayoutt) January 29, 2018
While others have suggested another use for the product…
DEAR FUTURE HUSBAND,#After saying, "I DO" this #bridalbuddy may allow us some fun TIMES (perhaps) before GETTING TO the reception, or in our covered vehicle on the way to anywhere!

WHAT CAN WE DO? # (YES, I hashtag the eyeballs)

LOVE,

WIFE #MARRIAGETWEET #EXCITED #YES https://t.co/TGFEFRwApK

— LOVE J. HITE (@ladonnahite) January 29, 2018
Either way, we're guessing this bizarre contraption will provide more than a few laughs on the big day.
You can pick up a Bridal Buddy for £80.99 (approx €92.00) on Amazon.