Following last months Manchester Arena attack, concert venues across the world have been cracking down on security.
This weekend Robbie Williams will perform at Dublin's Aviva Stadium and in the wake of those attacks, the venue has issued a public notice listing it's heightened security measures.
You will not gain access to the venue if you are in possession of any of the following items:
Backpack or large handbag.

Selfie sticks, professional cameras or cameras with a detachable lens, go-pros, iPads.

Garden furniture, deck-chairs, fold up chairs or shooting sticks, umbrellas.

Aerosols, spray cans.

Illegal/unidentifiable substances, legal highs, herbal highs or NoS.

Anything that can be perceived as a weapon or which could cause danger or disruption to any other persons at the event.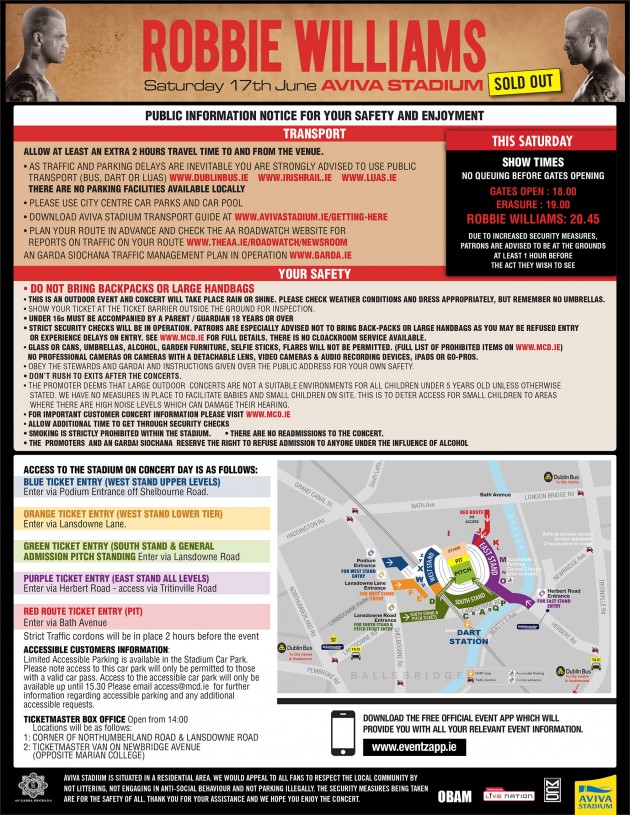 Concert organisers have warned that any attendees who are carrying any of the above items could be "refused entry or experience delays on entry."
Note that there will be no cloakroom available to store items.
MCD have advised those attending the concert to read the full notice thoroughly and allow at least an extra teo hours travel time to and from the venue.