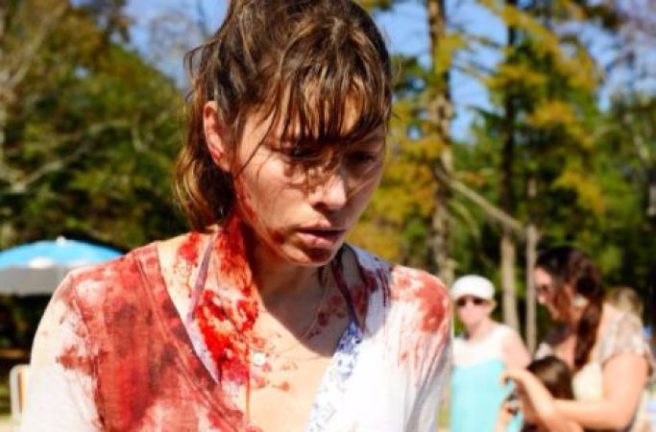 Still haven't watched The Sinner? Twitter is here change your mind
Some TV shows come out of nowhere, take you by complete surprise and ultimately knock your bloody socks off.
The Sinner is one of them.
Starring Jessica Biel, the uber-dark thriller seeks to understand why a seemingly stable young mum murders a young man without provocation during a trip to the beach with her husband and child.
Perfectly paced and utterly compelling, this eight-part series has set Twitter ablaze, with social media users only dying to contribute to the dialogue surrounding the production.
We mean, take a look at this…
finished the sinner, and oh my that was amazing #TheSinner pic.twitter.com/6aczxJloc7

— mia dunipace (@miasophiee) November 22, 2017
The Sinner is a MUST-WATCH on Netflix and Jessica Biel is incredible in it, highly recommend #TheSinner #NetflixUK

— Lara (@laradavies_) November 23, 2017
Finished watching #TheSinner. Stunning. The plotting was just sublime. But, please, can we leave it as one perfect season and not have a season two.

— Mark Edwards (@mredwards) November 20, 2017
Watch The Sinner. But don't watch it- it's so addictive… but watch it cause it's brilliant… but don't cause it'll take up so many hours of your life… but do, cause it's worth it. #TheSinner #Netflixlife

— Greer Samuel (@GreerLouise_) November 26, 2017
Just watched the whole series of #TheSinner – highly recommend

— ladykatie (@KatieSpicer19) November 28, 2017
Kinda obsessed with #TheSinner

— Chloe Underwood (@chloeu_) November 28, 2017
Jessica Biel is phenomenal in #TheSinner

— Francesca L White (@FrancescaLWhite) November 22, 2017
Got up early to finish watching #TheSinner – loved it – anyone any idea what can replace it now I've binge-watched that one? #Recommendations anyone?

— Sam Carrington (@sam_carrington1) November 21, 2017