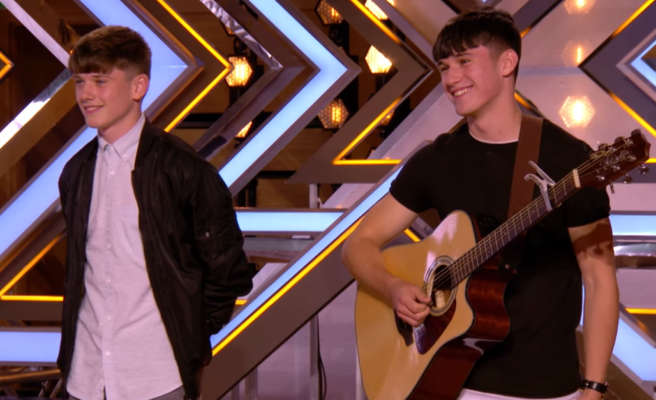 So, Twitter can't get enough of these Irish X Factor hopefuls
Wicklow brothers, Sean and Conor Price, wowed X Factor judges last night with their contemporary twist on Jimi Henrix's classic, All Along The Watchtower.
Having performed as a duo for around four years, the talented pair could often be seen busking on Dublin's Grafton Street, where they began to build a loyal fanbase.
However, last night, the brothers decided to take their music careers up a notch by attempting to win over the X Factor judges in the Edinburgh auditions.
After a flawless performance complete with an original rap from eldest brother, Sean, the siblings were met with a round of applause from all four judges with Simon Cowell even declaring the audition as "one of the best we've had."
He added: I'm going to say something to you guys – I don't want to change a single thing from what I saw and heard today"- a massive compliment from the music mogul.
Sean and Conor received a unanimous 'yes' vote, and will proceed to the next stages of the competition.
But of course, the judges weren't the only ones who fell in love with the Blessington duo. Twitter went wild for the unique performance, with some even predicting the boys will go on to win the show.
Watch this space!
My favourite by far. Stop the show now and give these lads a contract

— Cerrie (@cerrie5) September 16, 2017
Didn't think I'd be hooked to X factor this year but after Sean and Conor price's audition I wanna stay hooked legit just to see them win

— Holly (@hollyoshea_) September 16, 2017
I can't stop watching Sean and Conor's audition! It is amazing they're gonna go so far! They're so original @sean_conorprice #XFactor pic.twitter.com/ZnRYNeYXSI

— Rasika misses RT (@roadtripisbae18) September 17, 2017
Sean and Conor price wow! Killed it mate #twoIrishkids lol #XFactor

— Raquel (@Hazzastyles330) September 16, 2017
#BenCsIT #xfactor #xfactor2017 @WeAreSTV Sean and Conor … wow wow wow … amazing – we have winners YES'

— RealBenWalsh (@Realbenwalsh) September 16, 2017
Oh maaa gawwwd, Sean and Conor price on xfactor , amazing. If you've not seen it go watch it.. goosebumps #xfactor2017

— Natalie Deakin (@DeakinNatalie) September 16, 2017