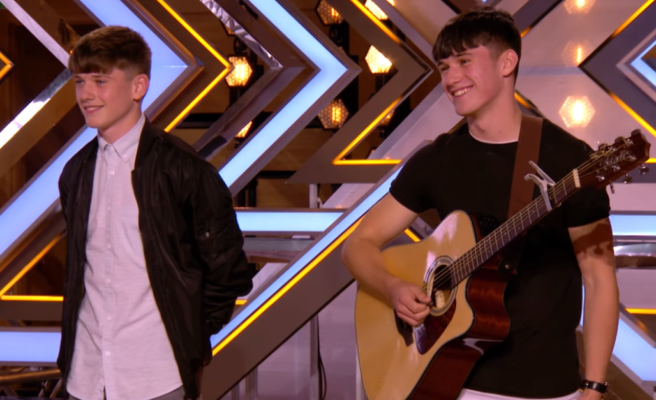 Last night's X Factor saw Simon Cowell take the hot seat as the groups battled it out for a spot at judges' houses.
Spaces began to fill up fast, and by the time Wicklow brothers, Seán and Conor Price took to the stage, all six seats had been taken.
And it looks like the added pressure may have impacted the sibling's nerves as their first song, an original called Something in the Way, failed to impress the music mogul.
Within seconds, Simon waved a hand in the air signalling for the performance to stop, before asking the boys if they had another song prepared.
"Guys, I'm going to be honest with you. After that, I'm not sure if I'm going to give you a chair. So I need to hear another song. What's your backup?," he said.
Determined not to let set-back stop them from landing the seat they so desperately wanted, Seán and Conor stepped up to the plate with a stellar performance of another original track, Time.
After winning over all four judges, as well as an audience of thousands, Simon offered the duo a seat, though he did note that the lads would need to work on their nerves if they were going to progress further in the competition.
.@sean_conorprice bag them selves a seat! But it looks like we're waving goodbye to EasyLife in the process! #SixChairChallenge pic.twitter.com/t7tjWtj6Qz

— The X Factor (@TheXFactor) October 14, 2017
"Guys, what's clear is that in the small rooms you were much more comfortable. I think it's very difficult for people your age to be on a stage this big because you're showing your nerves.
"So I have to make a decision whether I think this is right for you or too much for you."
"Okay, I've made a decision. You are going to take the seat."
So, it's onwards and upwards for the Blessington brothers, and we can't wait to follow their journey all the way to the top.