'She won't wear it' The back story to Bey's gown for that newborn snap
Unless you've been living under a rock, you will, at this stage, know that Beyoncé recently made the decision to share the first photograph of her newborn baby twins – Sir Carter and Rumi.
And while the more doting among us zeroed in on the babies, the more fashion-oriented among us couldn't help but obsess over the gown Bey chose to wear for the milestone moment.
So, if you've been only dying to get the 411 on the violet and aqua piece Bey saw fit to wear in the photo which has now been liked more than 9,000,000 times, pull up a pew.
According to Vogue, the gown is the creation of Alejandro Gómez Palomo of the romantic menswear label Palomo Spain.
As the world fawned over the gown, Alejandro explained the back story, saying: "It's the only piece I've ever made like that."
"It is vintage silk organza from a really old couture textile shop in Córdoba, Spain, which is near where I live. It is circa either the 1950s or the 1960s."
"I thought, Oh my God, I am so in love with this fabric. It had a midcentury quality – but we changed that," he explained.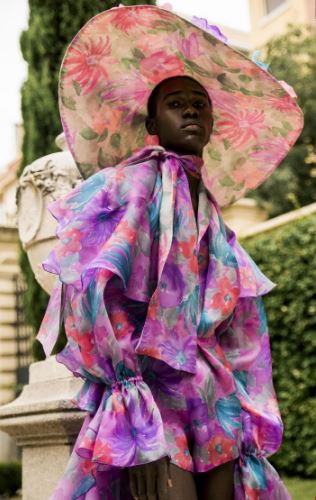 It turns out that Queen Bey was equally taken by the design, and placed an order, had it tailored to her measurements… and then learned she was expecting.
Reflecting on this turn of events, Alejando said: "We thought, OK, she won't wear it, oh well."
So, like the rest of the world, Alejandro was stunned by Bey's Thursday night upload, but for slightly different reasons.
Thrilled the Formation singer opted to wear the design in what is sure to become one of her most iconic photos, Alejandro said: "This is a really big surprise, obviously. I love the picture. It's just really beautiful. It's special."
Taking to Instagram shortly after the singer delighted fans the world over with her big reveal, Alejandro allowed himself to celebrate the singer's choice of attire.
Sharing the same snap, he wrote: "Never stop dreaming. Congratulations @beyonce for such beautiful babies. I'm so proud."
Acknowleding the one-of-a-kind creation, Alejando gushed: "It's exquisite . . . and I can never find it again, of course. It's a gown, now, that almost has the shape of a big fur coa – sleeved and open."
Centre image: CÉSAR SEGARRA FOR PALOMO SPAIN for ELLE