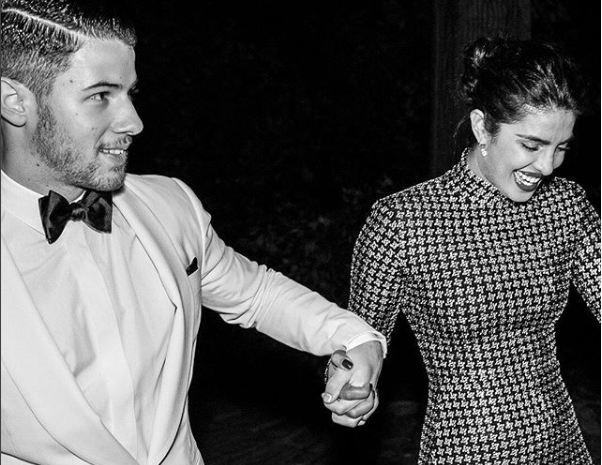 Read Nick Jonas' first text to Priyanka Chopra – it's GAS
Let's not lie to ourselves, we are all GUSHING over the whirlwind romance that's sweeping Nick Jonas and Priyanka Chopra off their feet.
They are both stunning to look at, and no one can deny how in love they are. Since meeting at the Met Gala in 2017, it's been no secret that they enjoy each other's company, to say the least.
Now that they're engaged, and Priyanka has that WHOPPER of a Tiffany & Co. ring on her finger, we feel it's time to learn how their relationship really started.
Turns out, Nick Jonas sent her a message before their MET Gala date in 2017 simply saying "I think we should connect." Very LinkedIn of you, Nick.
When the duo attended the elite fashion event in May 2017, they were invited to sit at the Ralph Lauren table together, but weren't an item yet.
They weren't actually official until May 2018 but by July, the duo were engaged to be married.
Newly engaged Priyanka Chopra and Nick Jonas' relationship can be traced back to the 2017 Met Gala red carpet: https://t.co/0bjN1HmnU4

— PeopleStyle (@peoplestyle) July 27, 2018
So let's get the dirt, how did he go from being her Fashion Forward date to future hubby? Following Chopra's NYC bridal shower, she gave us a few deets on their romance and we are LAPPING it up.
"Just being in the whole situation of finding somebody who can be a partner to you in so many more ways than one is amazing, so yes I'm very excited," she mused. Ugh, they're too cute.
In a separate interview, when asked about her singer fiancé, Priyanka gushed that the key to their relationship is all about a dose of Aretha Franklin's fave thing: respect.
"By that, I don't mean makes coffee for you, not that," she clarified. "But someone who respects the hard work you put into your life."
The bride elaborates that, for her, a respectful person is someone "who respects that if his work is important, so is yours. Or if he makes choices that are important to him, so is your opinion. That's respect, and that's incredible to have."
Their relationship sounds hella healthy to us. We're so happy for them, but where's our formal text message and Met Gala 2019 date?
Asking for a friend…