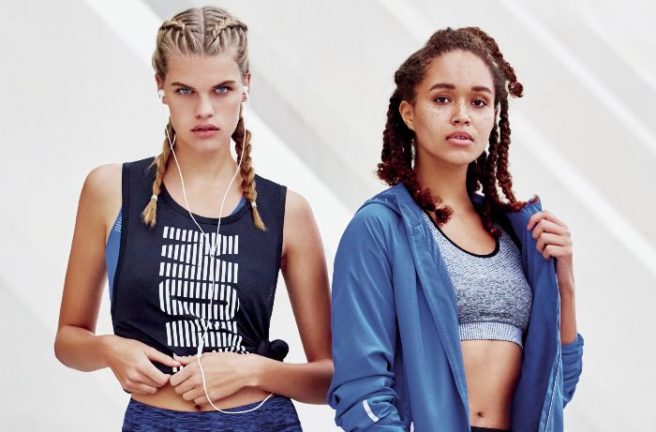 Penneys' GORGE new gym gear is new year's resolution-ready
January sees full-to-capacity gyms, a supermarket clear-out of anything green and "superfood-y", and a surge in the hashtag #IrishFitFam.
If, like us, you over indulged over Christmas and ate all of the cheese and chocolate in sight (even the pieces in your peripheral vision) you might be feeling like a good month at the gym will sort you out.
Or maybe your new year's resolution is just to eat a little better and move a little more.
Either way, stocking a whole new fitness wardrobe with fancy leggings and trendy mesh hoodies isn't always that easy on a January blues budget.
Black crop top €6, blue sports bra €4
Thankfully, budget high street store Penneys is swooping in to save the day, with a whole new collection of affordable and trendy athletic wear.
Getting some new workout wear can be motivation in itself to get down to the gym, and really, who needs another excuse to hit Penneys?
Speckled leggings €13, bush pink and mesh leggings €13
Leggings are a necessity for any gym wardrobe, but this speckled, high waisted pair could definitely double up as day wear when teamed with a chunky grey turtle neck and black duster coat.
And who doesn't want to wear comfy leggings all day long?
Mesh ballet hoodie €12, embroidered hoodie €12
Penneys is embracing the popularity of the barre class, with silk ballet wrap tops and hints of blush pink throughout its new athletic line, this mesh hoodie included.
Embroidery was also one of this season's biggest trends, so rocking some on your hoodie lapels is a no-brainer.

Blue runners €13, blush pink runners, €9
Runners are a necessity to take care of your foot and ankle comfort when walking the dogs or sweating it out in spin class.
At Penneys prices, you could literally pick up a pair to match every work-out outfit.
Water bottle €3, headphones €12
Accessorising your workout gear with a reusable bottle will save you from spending extra money on disposable bottles, and if one of your new year's resolutions is to become more eco-friendly, you'll be fulfilling that one too.
Headphones are a necessity to block out the world and focus on your favourite workout playlist, and this rose-gold pair is perfect for remaining on trend and on form.
The only downfall to Penneys new collection? Now we have no excuse not to hit the gym.