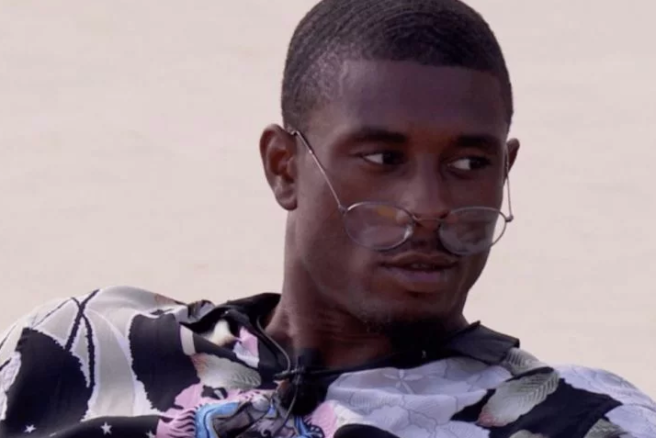 In The Style release slogan t-shirts dedicated to the iconic King Ovie
Ovie Soko has irrevocably changed our lives, that's a fact. The six foot seven basketball player has taken over the internet after bursting onto Love Island screens in the Casa Amor portion of the show.
He's basically the best thing to happen to the villa, and it appears that In The Style agree. The brand have dropped a range of t-shirts dedicated to the hilarious 28-year-old Islander.
While he's busy treating women with respect and giving long, deep, wise snippets of advice to the useless men in the house, he's also the king of fashion and emits chill vibes only.
The man has already been crowned the couture king of the villa, donning dapper menswear, tiny sunglasses, do-rags, tank tops and patterned shirts like it's nobody's business.
He's quite simply a breath of fresh air. Ovie is a fan of a good 1990s film throwback ("MESSAGE"), wears bucket hats in bed and wears fully-clothed lewks rather than swimwear all day.
His Hawaiian print co-ords, camp collar shirts, camouflage cargo pants and the legendary outback hat has won the hearts of the nation.
Ovie not only listening empathetically to women but using his social power as a popular, respected guy to pull up other men on their toxic, disrespectful behaviour of women. BE LIKE OVIE. #LoveIsland

— Roe McDermott (@roemcdermott) July 16, 2019
Ovie was the only one to school Michael on how badly he spoke to Amber, as well as crying on national TV when his Casa Amor pal George was dumped from the island.
It's impossible not to love the hunk, especially when he dances while he irons his clothes. Or makes eggs. He dances pretty much constantly, it's his thing.
He definitely knows how to make a woman feel good about herself, and is a constant gentleman when it comes to Amber's feelings. Their friendship lights up the world.
ovie is just an absolute sweetheart.. he don't chat shit behind people's backs.. he looks out for his friends and keeps giving us iconic moments of the series.. an absolute deserving winner of this year's love island #loveisland pic.twitter.com/en6gUzAls2

— Sabrina Green (@sabrinajg11) July 16, 2019
Fashion brand In The Style have moulded their love for the contestant into a range of t-shirts dedicated to him, and we've already pre-ordered them all.
The tops come in black or white and sport Ovie-inspired slogans on them, from "Current mood: Ovie" to "What would Ovie do?", there's something for everyone.
The t-shirts cost €13.33 (£12) each and are available in sizes six up to 16 on their website, from Friday, July 19.
Pre-order the tops online now, but hurry because Love Island fans have already been eyeing up the t-shirts on Instagram.
Ovie appears to get close to new girl India Reynolds, even managing to get a kiss in tonight's episode. The pair are both 28-years-old, but we're not sure what else they have in common.
Poor Chris has to watch India fall for Ovie, disappointedly proclaiming; Why's this my life? It's not funny. I think I'm getting Ovied".
"I got a text…MESSAGE" and "I think I'm getting Ovie'd" both need to be slogan t-shirts, it's an abomination that they're not included.
Feature image: ITV/REX