Seeking a phone with Instagram photography in mind – here's the 1
When it comes to smartphones, with so many of us sharing our lives via social media, one of the most important aspects of considering a new purchase can come down to camera quality.
From Samsung to Apple to Sony, there are a multitude of brands to contemplate – however with Huawei quickly gaining on recognisable brands thanks to it's innovative technology, we offer the Huawei Mate 20 Pro for debate.
When it comes to taking photos, it's unquestionably the strongest model on the market.
Love Lane by Anna Doran captured on the Huawei Mate 20 Pro
The Mate 20 Pro has a number of different settings for its camera – and thanks to it's incorporated AI intelligence, it is able to recognise what you're shooting at any given time. However, you can manually adjust the setting to suit your individual needs.
We have regular photo and video, which capture general images in crisp clarity, but we also have Night mode, which adapts to low or changeable lighting, adding a natural brightness to the foreground and background.
Another setting is Aperture, a term usually reserved for DSLR quality cameras. This mode captures intense details for close up shots.
Portrait mode, much like the iPhone setting of the same name, is perfect for shots of people, and softens the background to bring the topic of your photography into focus.
Pro is the stand-out setting, and the clue is in the name. In this mode, you've got the option to control features you would usually only have on professional grade camera equipment, such as ISO, shutter speed, exposure compensation, AF mode, stabilisation, white balance and metering.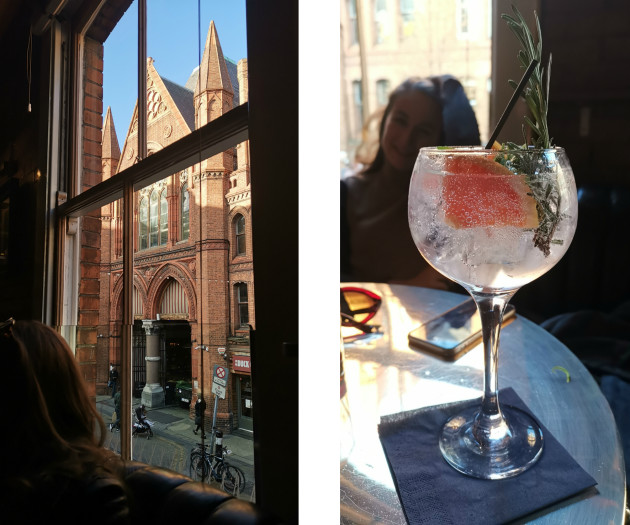 An evening in Fade Street Social captured on the Huawei Mate 20 Pro
The secret is in the Leica triple camera – with the Mate 20 Pro being the first smartphone in the world to utilise this form of technology.
With the highest total pixel count of any smartphone on the market today, it's not entirely surprising that the stand out feature of this smartphone is it's photographic propensity.
Billed as 'redefining intelligent photography,' the system incorporates three different lenses to capture the clearest image possible while making smart amendments for lighting changes and stabilisation.
We had a few months to try out the new phone, and alongside our iPhone for comparison, the Mate 20 Pro proved itself far superior when it came to being Instagram handy and a diligent travel companion.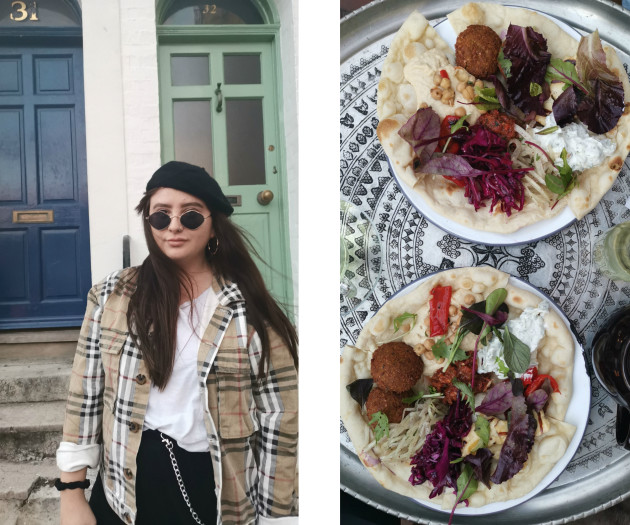 Exploring and eating in Brighton's lanes captured on the Huawei Mate 20 Pro (outfit from Boohoo.com)
The world has been opened up to us thanks to affordable airfare and apps like Instagram, which showcase the world in miniscule megapixels and only fuel our wanderlust.
Photography on a smartphone is essential while abroad, and the camera scope makes the Huawei ideal for mini-breakers and backpackers alike. Whether you're looking to take shots of mountainscapes or your outfits against new backdrops, the adaptability of the Leica triple camera is unbeatable.
For food shots, we recommend the Pro setting – which is how I captured the Middle Eastern spread above (from Lavash in Brighton's lanes – a must try if you're over there) – to capture every delicious detail, while Portrait mode works well for forward-focused fashion shots, like this blogger-worthy windswept shot.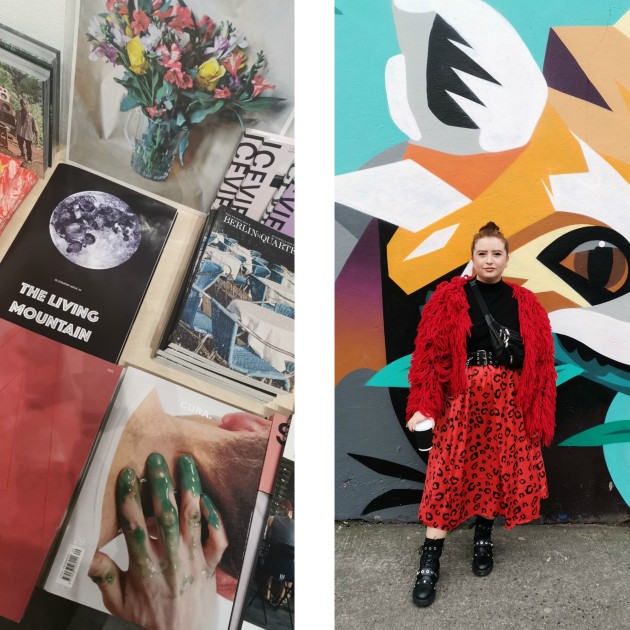 Temple Bar and Camden Street, Dublin, captured on the Huawei Mate 20 Pro
While away, another photographic trick that's sure to come in handy in countries that don't speak your language is the Microsoft Translator app – which you can use offline on the Huawei Mate 20 Pro.
In partnership with Microsoft, the app comes pre-installed, giving users online quality level language translations even when you're not connected to wifi.
Simply take a picture of a sign, menu, or whatever dialect you want to translate, and run it through the app.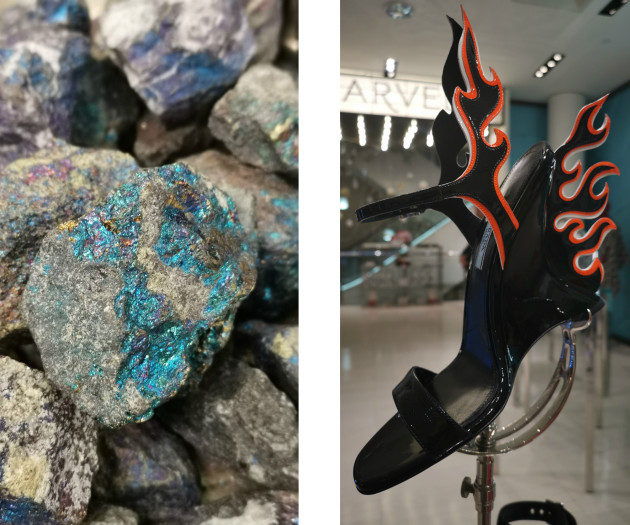 Crystals at Folkster, Temple Bar, and Prada heels in The Marvel Room, Brown Thomas captured on the Huawei Mate 20 Pro
When it comes to photography, the devil is in the details – and the Mate 20 Pro picks them up with ease, particularly in Aperture mode.
Whether it's capturing the sprinkles on your gelato or trying to capture the complexity of a close-up eye makeup look, the phone adjusts to the range between the phone and object to create the clearest photo possible.
Along with technical details, the phone allows you to get creative with your videography and photography.
The camera incorporates modes like Time-lapse, to create sped-up videos of your travels. There is also an underwater setting (to be used with the waterproof case) which is designed specifically for submerged photography.
You can also try light painting, panoramic shots, or add various filters to your camera.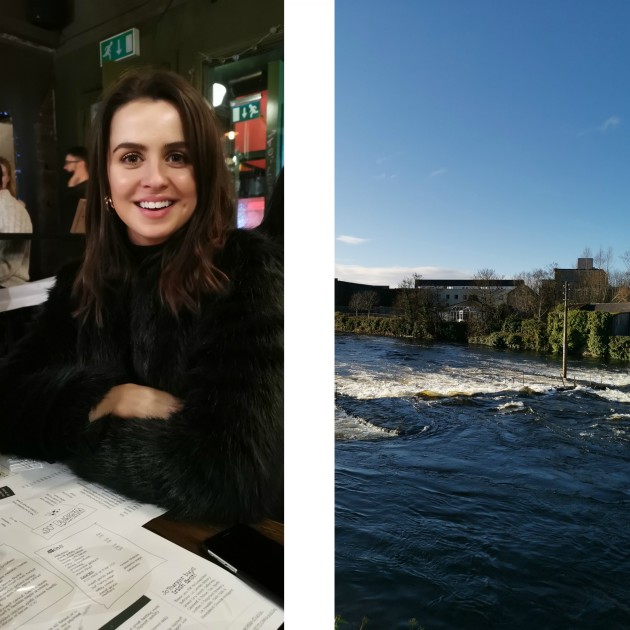 A weekend in Galway, captured on the Huawei Mate 20 Pro
The one downfall of the camera is the selfie mode – although this could be taken as a positive or negative depending on how you look at it.
The camera automatically adds a beauty filter to your face when recording on selfie mode. You can turn down the beauty filter, but it is difficult to remove entirely.
Of course many people would enjoy this filter, but following the ease of use, professional quality and creative freedom provided by the phone's other camera features, this one seems out of place.
Overall, the Huawei Mate 20 Pro is the ultimate travel companion phone for a globetrotter looking to capture their life in as many pixels as possible.
The Huawei Mate 20 Pro is available on all Irish networks, from €1,049