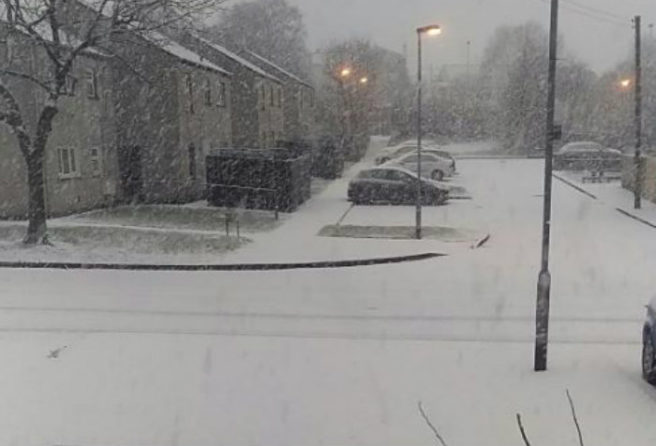 If you're currently inside – stay there: it's officially SNOWING!
We had been warned that wintry conditions were set to hit the island – and it's now official: it's SNOWING in Ireland.
One caller told 2fm's Breakfast Republic that a bit of a blizzard is going on in Wicklow, while others around the country have been posting snaps of their own mini winter wonderlands on social media.
Eh, this is fast and still coming down strong… #irlSnow #snow #pretty #snowing #white #cute pic.twitter.com/MfamOZkmMU

— Kirstine Boyd (@KirstineChaos) January 12, 2017
Kristine Boyd is this morning in Belfast – where the snow is coming down fast and heavy.
@clelia_murphy Snowing in the county! pic.twitter.com/eyDR9nVurn

— Maeve McGrath (@maevemcg) January 12, 2017
And Maeve McGrath in Kerry captured her dog on a snowy walk this morning.
There is also snowfall in Tipperary.
Snowing in the cloisters at Holycross Abbey. A quick tour this morning before heading back to the walking. pic.twitter.com/majYrNmKGY

— Ireland / Breifne (@ireland) January 12, 2017
As well as in Ballymena in Co. Antrim.
@officialcoolfm it's officially snowing in Ballymena hiii..@PeteSnodden @paulorossradio @PSRebecca pic.twitter.com/J0k6pCF4A7

— Nicola bowyer (@Nicolabowyer1) January 12, 2017
Met Éireann has said that it will be "very cold today," with "some hill snow in places" which "will turn increasingly to sleet and snow at lower levels this morning, mainly over Ulster, Connacht and west Munster and in remaining areas this afternoon and evening."
Wintry showers in north extending to all areas, falling as snow on hills at first but at lower levels as day goes on. Highs only 3 to 5C.

— Met Éireann (@MetEireann) January 12, 2017
And if that wasn't enough to make you want to hibernate, it adds: "Some thunderstorms are likely to develop also. Top afternoon temperatures of just 2 to 4 C., and feeling colder in the strengthening west to northwesterly wind."
Brrrrrrrrrr!