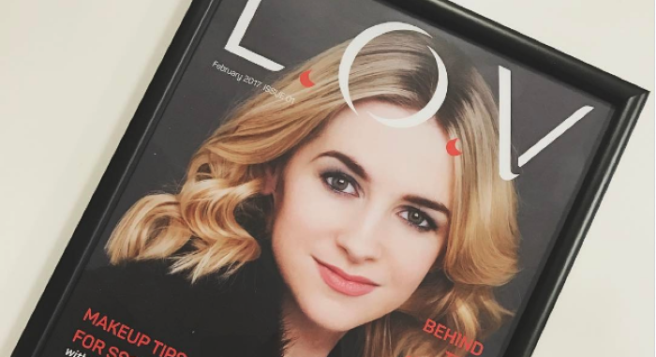 I went from behind the camera to in front… And it freaked me TF out
On a blustery Tuesday morning a few weeks ago, I received an invitation from L.O.V Cosmetics to "star as an icon" in my own "personal beauty cover shoot."
For years, I worked alongside stylists in Dublin and took part in everything from commercial photoshoots, to fashion shows and TV styling.
I was always the one on the floor, pinning the models' clothes, taping the bottoms of their shoes and quickly fixing their hair if it went askew, so when I read the invitation, my first reaction was uncontrollable laughter followed by, 'eh, noooo'.
But, after a bit of thought (and a lot of encouragement from my colleagues), I said 'why not?' and confirmed the beauty shoot.
Now, I'm no model. I'm barely 5ft, my skin has scars from years of horrid spots and I can only take a good picture in selfie-mode, so to say I was a little bit apprehensive on the morning of the shoot was an understatement.
I knew various other journalists would be joining me on the day, and some have been in the industry for years, so walking into Bond Street Studios with my red face and choppy hair was a tad scary.
But, that anxiety soon disappeared as I met the team I would be working with that day. From the make-up artists, the photographer, the hairstylists and the PRs, I felt extremely comfortable in my own skin, and chatted away as if I had been doing this thang for years.
My make-up artist, Sarah Lanagan, eased me into the morning, and along with doing a stellar job on my face, she also gave me some great advice about which L.O.V make-up would best suit my skin, how to use it properly (don't just lash foundation onto your skin), and how to achieve the ultimate glam look.
My next port-of-call was the hair station, where I met two lovely hair stylists from Kazumi Hair Salon. When I was an assistant stylist, this was usually the time I would scramble to get everything together, bombing around the studio to make sure all was set up and good to go for when the model's gruiage was set and ready.
But on that day, I wasn't the one running around. And that was weird.
I was chatting and having a laugh with the ladies… which strangely made me feel uneasy because I knew it was coming close to photoshoot time.
And once my soft curls were firmly hairsprayed down, that is when I started to feel anxious.
It was time for the camera.
I hopped in front of the lens and bright lights, with a queasy feeling in my tummy, and smiled.
FLASH. F*ck. FLASH. Ah…
I didn't know how to pose. I didn't know what direction to turn my head. My cheeks were getting jitters from trying to keep a smile on my face. I felt awkward and as if I was an imposter.
But, as the photoshoot went on, I eased into it. With direction from Kip Carroll, the man behind the picture, I was able to figure out what angle works well and how to get a killer jaw-line.
Being behind the camera is fun, but hard work. Being in front of the camera, felt extremely glamorous and I ended up becoming giddy with excitement as the shoot went on.
When we finished, Kip gave me a little sneak peek at the photos, and I was actually happy. I thought I'd look like the awkward kid I used to be in my school photographs – but what I was looking at was the exact opposite. I looked confident.
Leaving Bond Street Studios, I felt good – completely reversed to how I felt walking in.
I met fabulous professionals, learned an abundance of beauty tips, and all in all, heightened my self-esteem – even if it was just for that morning.
That day, I learned that being behind the camera is my place to be, but I'm glad I went in front of it for once. And to say I'm happy with the outcome is an understatement.