Hummus, gin… and a body scrub: 6 great ways to use leftover pumpkin
Hurrah for pumpkins! The giant veg have now hit supermarkets, getting us oh-so excited for Halloween.
But just WHAT should we do with the leftover sticky, sweet mess of orange flesh and that tough, waxy exterior? Because all too often it all just ends up in the bin come November 1.
Fear not! There are actually loads of different things you can do with your spooky pumpkin once Halloween concludes.
Here, SHEmazing! rounds up our favourites tricks…
1) In the kitchen:
Pumpkin fries are a delicious, healthier-alternative to their potato counterparts:
Cut the flesh into thick chips 1-2cm thick.
Wash and pat dry with kitchen roll before transferring to a bowl.
Sprinkle generously with salt and leave aside to draw out any excess water.
Place on a baking tray lined with parchment paper. Lightly drizzle with a vegetable oil of your choice.
Bake at 200C for 40 minutes before serving immediately.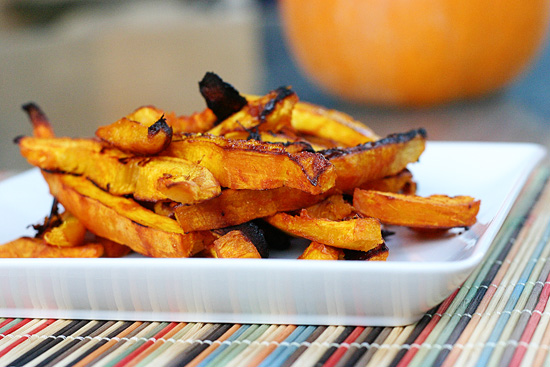 Roasted pumpkin hummus is a welcomed twist:
Cut the pumpkin flesh into cubes, drizzle with vegetable oil and bake on parchment paper for 35/40 minutes at 200C.
When cooled, add to a food processor. Top with a can of drained chickpeas, two cloves of garlic, two tablespoons of lemon juice and ground cumin to taste.
When the motor is running, add in about 60mls of virgin olive oil.
Remove and dress with chopped parsley and black pepper before serving.
2) In the bathroom:
Make a pumpkin spice body spruce to banish dry, rough skin as we head into the winter months:
Take a mixing bowl and add in 400g of brown sugar, 100g of white sugar and a sprinkle of ground cinnamon, nutmeg or clove. Mix together.
Gradually add in 100mls of almond or coconut oil until you have a damp, solid mass.
Transfer to a re-sealable jar and keep in the fridge for up to eight weeks.
Apply with exfoliating gloves to clean skin while in the shower and rinse afterwards.
3) In the water:
The more ambitious individual might fancy fashioning their giant pumpkin into a boat: a pumpkinfest in Maine in the US runs an annual water-based competition with participants racing in hollowed out pumpkins.
This year's event, the 10th pumkin boat regatta, kicked off last week and will run until Monday. But don't worry – the 2016 festival is already earmarked for 12 months' time.
4) In the living room:
Painted pumpkin seeds can be dried out and used to create gorgeous Christmas tree decorations:
Wash the seeds, dry thoroughly and then toast on a low heat in the oven for 10 minutes. Leave these to sit overnight.
Take some cardboard and cut into Christmas tree shapes. Next glue the dried seeds to the template, with the pointed end facing downward to create a pinecone effect.
Allow the glue to dry before applying green, red, silver or gold spray-paint.
Finish with glitter or top with ribbons to hang from the tree.
5) In the party spirit:
Pumpkin-infused vodka or gin is a delightful as a seasonal liquor or in cocktails:
Dry roast pumpkin cubes on parchment paper for around 25/30minutes.
Decant 750mls of vodka or gin into a re-sealable jar and then add the pumpkin cubes, along with cloves, cinnamon and nutmeg.
Allow to sit for three weeks in a cool, dark place.
Strain out the liquid through a cheese cloth so you're left with a clear, orange infusion.
Keep in the fridge and serve on its own or as part of a cocktail.
6) In the garden:
Simply rough chop any remaining pumpkin and work it into garden soil to act as a fertiliser. And why not sow your own for next year's festivities?
Plant in late April in a greenhouse, conservatory or even on a window sill indoors, before transferring outside in late May or early June. Be careful not to over-water but use plenty of compost. Watch out for hungry slugs and snails too.