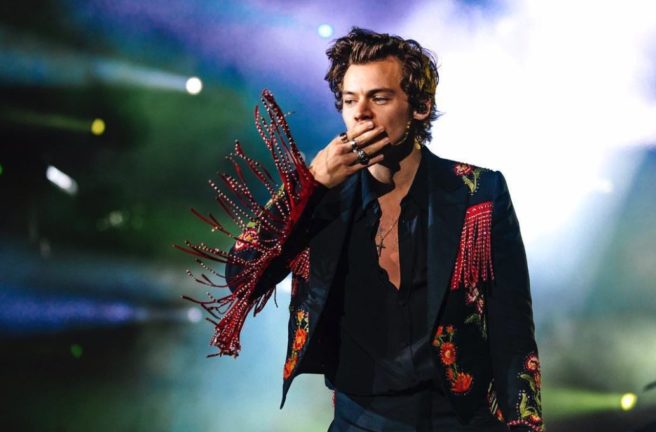 Harry Styles and his "gf" reportedly broke up and we're kinda confused
Right, so hear us out on this one.
Harry Styles is pretty famous, right?
He's young, good-looking and fairly recognisable wherever he goes.
So how could this 24-year-old have had a serious thing with a French-American model for twelve whole months and us not know anything about it?
More importantly, how did not one paparazzi nab more than one grainy, blurred photo of them leaving an apartment/with a jacket covering one of their heads while getting into a taxi?
EXCLUSIVE Harry Styles might be applying for #loveisland next year – I can reveal he has split from his girlfriend Camille Rowe after a one year relationship https://t.co/3lfnQJGCZF pic.twitter.com/rgRh8XXnTp

— Dan Wootton (@danwootton) July 30, 2018
I know that there are celeb couples who are extremely low-key.
They're rarely papped, they don't talk about them in interviews and you'd have to be Sherlcok f*cking Holmes to find a trace of their other half in their social media posts.
But is that what happened here?
Basically, the nub and gist of it all is that Hazza has apparently parted ways with his missus of a year, 28-year-old Camille Rowe.
The sketchy timeline of their relationship goes as follows: they started dating last July, she met his fam in December,and they reportedly rang in 2018 together on New Year's Eve. Hmmm.
Look, I'm not saying it's a PR stunt (because, well, I can't hardly give Harry a ring and ask him, can I?) but it just seems a bit fishy tbh.
Celeb journo Dan Wooton broke the story for The Sun and he says that Harry, ''called time on their romance just a fortnight after he completed his 89-date world tour.''
That's literally all he revealed so we don't have many hard and fast snippets to piece together.
So, call me cynical but I just don't buy it.
Nevertheless, Harry, if you're reading this and ever need a shoulder to cry on, I probably (definitely) wouldn't say no.