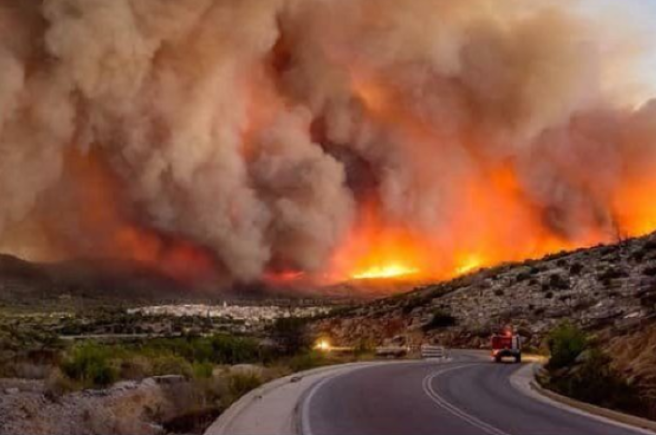 Greek Wildfires claim the lives of 60 people with the toll set to increase
Greek wildfires have reportedly claimed the lives of 60 people in the Attica region around Athens.
The country is experiencing the worst fire crisis in more than a decade, as summer temperatures have been high.
The Press Association reports that Greek Prime Minister, Alexis Tsipras has declared a national three-day mourning period.
A local official reportedly issued the sad news of the death toll to the media after the blaze has destroyed the seaside village of Mati.
The town is located 40 km (25 miles) north-east of Athens.
The fire swept through Mati on Monday and places were still burning into Tuesday morning.
Mayor of the town of Rafina, Evangelos Bournous told Skai TV, that at least 60 people had lost their lives due to the fires.
Rescuers uncovered the remains of 26 victims, both adults and children in an open space.
Heartbreakingly, they were hugging as they passed away, just metres from the safety of the sea.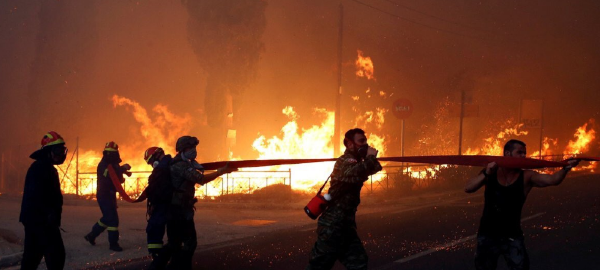 Nikos Economopoulos, head of Greece's Red Cross, said:
"They had tried to find an escape route but unfortunately these people and their kids didn't make it in time. Instinctively, seeing the end nearing, they embraced."
Rescue services have been called upon to look for missing people.
Emergency workers are using boats and helicopters to get people off the beaches and to safety in a huge rescue effort.
Taking refuge at a beech escaping fire. Greece right now. Dam wall breaks. Horrifying #Greece #Greecefires pic.twitter.com/tVSJ88qTAB

— neil weightman (@neilweightman) July 24, 2018
The wildfires are a recurring issue during the hot, dry summer months in Attica.
The flames were fanned by high winds this week.
However, the weather mightn't be the only cause of the current blazes.
Our prayers are with Greece today #Greecefires #PrayforGreece pic.twitter.com/FpyzQFZt6h

— Benonwine (@benonwine) July 24, 2018
Officials quoted by AFP news agency have suggested it may have begun via arsonists looking to loot abandoned homes.
"Fifteen fires had started simultaneously on three different fronts in Athens," said government spokesman Dimitris Tzanakopoulos.
The official said in order to "observe and detect any suspicious activity", they had requested drones from the US.
NO WORDS. TOO HARD TO WRITE.. #Greecefires #Greece #GreekFires pic.twitter.com/AaaAtt3tDB

— Marios Kaminarides (@mkaminarides) July 24, 2018
Desperate families attempting to flee to the safety of the sea were met by walls of smoke and flame.
Those who did make it were picked up by Coastal patrol boats and private vessels.
"Thankfully the sea was there and we went into the sea, because the flames were chasing us all the way to the water," said recounted one survivor, Kostas Laganos.
"It burnt our backs and we dived into the water… I said, 'My God, we must run to save ourselves.'"
The death toll is expected to rise.