For once, 6 epic date night ideas that don't involve the couch and TV
When you sit down and think about it, you'll probably find you spend far more time sitting in front of a screen than you actually realise.
That 30-minute commute spent flicking through Twitter on your phone, followed by a full day's work in front of the computer… it all adds up. Yet even after eight hours staring at a screen, most of us want nothing more than to flop on the couch after work and zone out in front of Celebrity Big Brother.
Ireland's screentime is well above the recommended amount, with new research by Core Media and Ignite Research showing that even children are watching on average four hours of TV and online video every day. That's DOUBLE the maximum recommended limit.
So next time you're planning a relaxing night with your other half, why not switch off the telly and try something different? Here are a few of our favourite date ideas that DON'T involve your couch and remote control…
1. Check out some comedy
The International Bar on Wicklow Street was the kick-off point from some of Dublin's best comedy acts, from Des Bishop to Fred Cooke. There are shows every Thursday, Friday, Saturday and Sunday night with tickets available for a €10 on the door on the night. Head along and who knows, you could see a big name – or the next big thing.
2. Experience the best music in a mystery venue
Sitting rooms, rooftops, attics and clothes shops are just some of the spots that have played host to Sofar Sounds, a music collective offering "amazing music in intimate venues." Their next date is February 24, so sign up and head along to check out a few amazing acts in a mystery venue somewhere in Dublin.
3. Get fit together
Whether it's joining a local running club or getting out for a walk together, there's no nicer way to spend an evening than all wrapped up out in the fresh air. Plus, exercise = endorphins, which are known to strengthen the bond between couples. Win.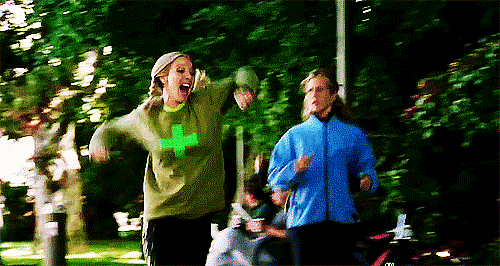 4. Become pet owners – just for the day
If you two would LOVE a dog but can barely fit a goldfish in your apartment, why not check out a dog-borrowing service like Borrow My Doggy? You'll get to take care of someone else's adorable pooch for a few hours, walk them, play endless games of 'fetch' and drop them back to their owner.
5. Cook a meal together
Rather than banging out a chicken stir-fry in ten minutes flat, pick a recipe for something you both love, stock up on ingredients and prepare it together. If you know you're likely to want to kill each other after five minutes (we've been there), then put one person on cocktail-making duty and the other on food.
6. Dance like no-one's watching (literally)
You know the absolute buzz you get from dancing up a storm in your sitting room to some random Spice Girls song? Well, the folks at Soda Bread Box are all about that. You can head along to their dance nights every Monday, pay a fiver on the door and dance for an hour in TOTAL darkness to some seriously epic tunes. Their rules? "No lights, no alcohol, dance your socks off."