First Look: All 103 Carter Beauty products have landed – and WOW
Earlier this year, one of Ireland's biggest names in beauty announced that a makeup line would be her next venture.
Taking to Instagram, Cocoa Brown Tan guru Marissa Carter told her followers that she would be be releasing a full line of makeup, and it officially launched today.
Arguably Ireland's biggest beauty launch of the year, the collection was viewed this afternoon by some of Ireland's top names in style and beauty.
Marissa previously told her audience that the collection was going to contain very makeup bag addition a girl or guy could need, saying she would be launching: 'An entire collection – everything from foundations, to concealers, to mascaras, to eyeliners, blushers, highlighters, bronzers, lipsticks, lip-glosses…'
And trust us, she didn't disappoint.
The collection contains a whopping 103 products, with absolutely every item you could need to paint your face.
For base, the Hold Tight Perfecting Primer promises to keep your makeup in place all day, and most importantly, prevents your makeup from oxidising and turning orange.
Unlike many beauty brands, Carter Beauty is maintaining an accessible price point. When Cocoa Brown first burst on to the scene, the affordable tan was likened to much more expensive products, and Marissa wanted to maintain the brand ethos of high quality products at a low cost.
Items in the range start from as low as €3.95, and the most expensive product in the collection are a trio of 18-shadow eyeshadow palettes, coming in at €14.95.
'Beauty has always been my passion,' Marissa said. 'Before Cocoa Brown, I owned my own salon, Carter Beauty, and the satisfaction I go from seeing a woman watch herself transform was second to none.'
'Carter Beauty is an ode to that.We want to help women feel confident in themselves. '
The range has truly kept every kind of woman in mind, with variations in foundation shades, lip textures, and eyeshadow colour stories.
Rather than just come out with one product like most brands do as they attempt to break in to another area of the market, Team CB jumped right in with an entire line of cosmetics that have been years in the making.
It's difficult to identify hero pieces from the collection as there are many, but a basic element to a finished makeup look has to be the foundation.
Carter Beauty is launching with two foundations, with a huge shade range – and if you are a certain shade in one, that's the corresponding shade you will be in the other.
The first foundation is the Full Measure HD foundation, giving full coverage with a matte finish (it's worth noting here that not a single one of Marissa's products are tested on animals, and have been accepted as proud members of PETA's Beauty Without Bunnies Cruelty-Free programme).
The second foundation is a dewy finish, called the Half Measure Dewy Foundation, for those days where you want your skin to shine through with just a little help. Both of these foundations have a very affordable price point of €9.85.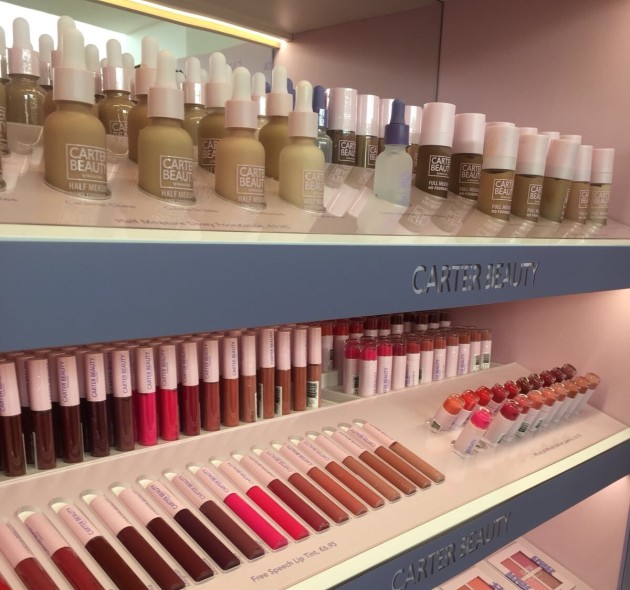 Moving on the the eyes, and to marissa's own favourite product , there;s the Supreme Gel Liner (whose pale pink packaging is to die for.)
'I couldn't live without the Carter Beauty Supreme Gel Liner. It's so easy to use, jet black, and it lasts all day,' she said – and it's only €4.95.
The three eyeshadow palettes are completely studding, with two being the every-day palette you turn to and the third being a tad more dramatic.
The Smooth Nude Palette does exactly what it says on the tin, with 18 amazing shades in a range of browns, taupes and neutrals, It's the palette tha you take on every holiday and dip into everyday for work, before dipping into the darker shades to carve out that cut crease before hitting the town.

The Sweet Apricot palette was formulated with a bride in mind – flushed with soft peach tones shimmering bronze hues and warm neutrals.
Every shade in the Sweet Apricot palette is named after a sweet that Marissa herself is a fan of – I'm particularly partial to Flump and Milkshake.
The third palette is the most dramatic, and it's definitely responding to the year's biggest makeup trends.
An array of warm sumptuous shades, the palette has Warm Velvet palette is decidedly rose-toned and rich.
The rest of the collection was equally as high quality, in kitch but minimalist packaging, with sassy names like the Throw Shade Duo contour sticks and Setting Standards baking powder.
One thing that really stood out to me about the collection is that it's completely customisable. There is no 'one look' that the line emulates.
It's ias individual as the woman who wears it, and anyone of any makeup style could peruse the Carter Beauty makeup stall and come away with elements that would compliment or revolutionise her current beauty look.
With the astronomical success of Marissa's tanning brand, there's no doubt that the makeup line will see the same triumph – and it's available online now and in 150 pharmacies nationwide over the coming weeks.