FINALLY we know why Monica's apartment was purple in Friends
It's iconic. That violet hue adorning Monica's apartment's walls in Friends is simply unmistakable, yet also puzzling.
Often we find ourselves pondering one question during the unending reruns of our favourite sitcom (and no, it's not 'Were they on a break?'): why purple?
Yes, we love it, but it's definitely an unusual choice. Were the set designers big fans of grapes? Did they get a discount on that particular paint? Colour us intrigued!
Finally, all has been revealed. Set designer John Shaffner, the mastermind behind Monica's enviable apartment, spoke to Great Big Story about his colour choice.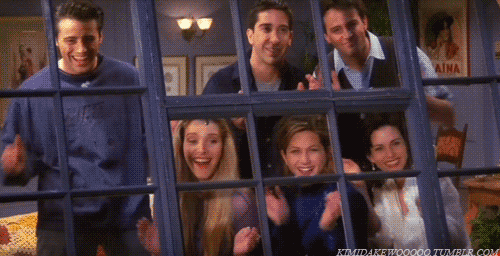 "Everybody was really anxious," the accomplished production designer said of his paint decision.
One of the biggest reasons he chose that bold shade of violet was because it helped show the sitcom's personality.
"Colour is really important in establishing the show identity," he said.
John, who has also worked on the likes of The Big Bang Theory and Two and a Half Men, said that he thought the hue would help hook viewers.
"When you switch to Friends, you saw that it was purple and you stay tuned," he noted.
Colour choice isn't the only challenge a set designer faces, though. John observed, "One of the responsibilities of a production designer is to look into the future."
One such crystal ball moment was when he included the mystery door in Monica's apartment, which wasn't opened until season eight to reveal an overstuffed closet.
"We put a door all the way up this hallway and we really didn't say where it went to. I said, 'Why don't we just wait and see where the story is taken?'" John recalled.
And we were so happy to see where it went! Monica is totally the type of person to be ashamed of a messy closet.
Reflecting on his work, the Emmy Award-winner said, "I am so lucky that I got to design Friends."