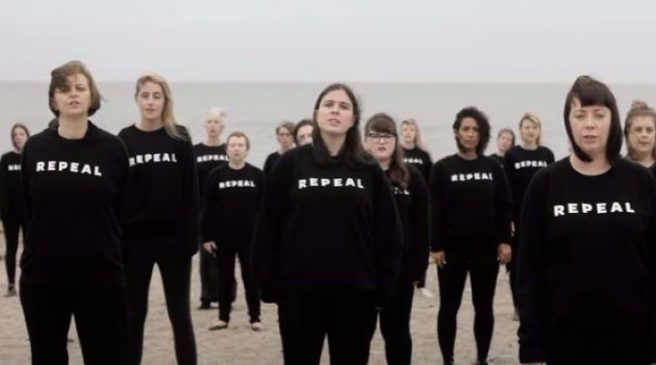 Dublin City Council has formally voted to support the Strike 4 Repeal
Last night, Dublin City Council passed an emergency motion to support the Strike 4 Repeal without debate.
The council offers their formal support to the movement, and calls on Dublin City Council management, as a major employer in Dublin City, to ensure any workers who wish to participate in the strike by taking an annual day of leave are facilitated to do so.
It also calls on any workplace events in support of the strike to be given the support of management.
BREAKING NEWS @DubCityCouncil voted in favour of a motion to support #Strike4Repeal. Meet us at O'connell Bridge at 12.30 pm

— Strike 4 Repeal (@Strike_4_Repeal) March 6, 2017
"Ahead of International Women's Day, the Council welcomes the Strike4Repeal initiative as a reminder of the stark reality of women's inability to access abortion in Ireland," reads a statement from Dublin City Council.
"We note the support given by the Council to the repeal of the 8th amendment in September 2015, as follows: That Dublin City Council:
"Noting the welcome passing of the marriage equality referendum by a wide margin reflecting a qualitative shift in public opinion in favour of progressive social change particularly among the youth and working class communities where the highest 'Yes' votes were recorded."
I support a woman's right to choose in Ireland and everywhere. Simple as that. It's time to #RepealThe8th in Ireland. #Strike4Repeal #March8 pic.twitter.com/j2WQCVssbG

— Paul Dunphy Esquire (@pauldunphy) March 7, 2017
"And further noting recent reports from Amnesty International and the UN Committee on Economic, Social and Cultural Rights critiquing Ireland's highly restrictive abortion laws
Dublin City Council also "calls on the government to hold a referendum to repeal the eighth amendment of the Constitution."
The Strike 4 Repeal movements "Meet me on the Bridge" video campaign has gone viral, with over 370,000 views and thousands of likes.
The strike is going ahead tomorrow, kicking off at 10.30am in a picket at the Department of Justice and culminating in a mass gathering on O'Connell Bridge at 12.30am.
SHEmazing! will be at the strike tomorrow, so follow us on Snapchat @shemazingie for live updates.