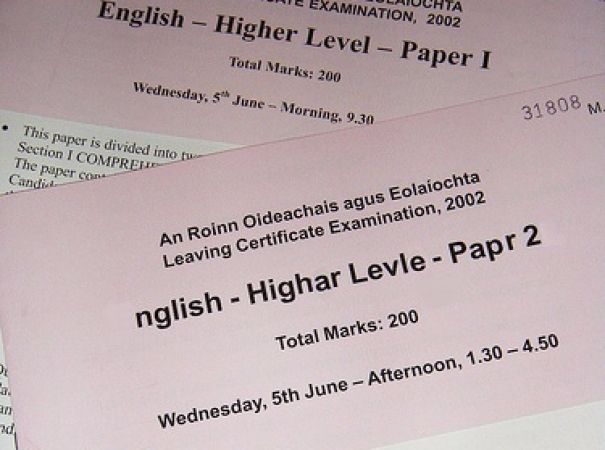 'Don't ask me' These #LeavingCert tweets will bring back memories
Ladies, it's that time again.
We're halfway through August, 'Back to School' signs are going up in every store around the country, and thousands of Leaving Cert students are desperately trying to remember whether they used the right formula in question 3 of Maths Paper 2.
That's right; the results are out tomorrow, and Twitter is currently awash with posts from 6th Year students who would rather do anything else than tear open that envelope tomorrow morning.
Let's take a look…
1. Oh, Casey.
Me thinking about tomorrow #LeavingCert pic.twitter.com/qorzlFNQNZ

— Casey(@_caseymaloney_) August 15, 2017
2. It'll always be the dream, Annie.
Never mind the 8 A1s. Can we please read about #leavingcert students who *did fairly well considering we spent all year watching Netflix*

— Annie West (@anniewestdotcom) August 14, 2017
3. Our lips are sealed, Sammy.
Don't ask how I did tomorrow for results because I'm not opening them and just waiting for the offers..not emotionally stable #leavingcert

— Sammy(@sammypickles12) August 15, 2017
4. Just about everyone, Grainne.
Anyone else feel physically sick and unable sleep at the thought of Wednesday #LeavingCert

— grainne (@grainnecremins1) August 14, 2017
5. You said it, Breeanna.
would it be bad of me to just grab my results envelope and open it in the car bc who the f wants to deal with the teachers#LeavingCert

— Breeanna Kinsella (@negativelately) August 14, 2017
6. Everyone when they open that envelope.
Me when I open that envelope #leavingcert pic.twitter.com/D3EwOuoODK

— Neees(@peachschnappps) August 14, 2017
7. Yep, looks about right.
Going into results day like: #leavingcert pic.twitter.com/z43LH2HMcg

— Saoirse (@SaoirseT98) August 11, 2017
And while those awaiting results gnaw their knuckles to the bone, and question their very existence, older Twitter users are, thankfully, on hand to offer some sage advice.
Best of luck to #leavingcert students getting results. Perhaps you're a future entrepreneur. These companies all started in their garages: pic.twitter.com/E7RaLjQTQP

— Claire Mac Namee (@ClaireMacNamee) August 14, 2017
Be gentle asking people what they got, if they want you to know, they will probably tell you #leavingcert #leavingcertresults

— Leaving Cert Tips (@625points) August 15, 2017
Failed my #LeavingCert (spectacularly!) '96. Worked, played and lived 4 nxt 15 years b4 finally going to Uni. Doing a PhD now. #nowrongpath

— Mark Ronan (@markronan79) August 15, 2017