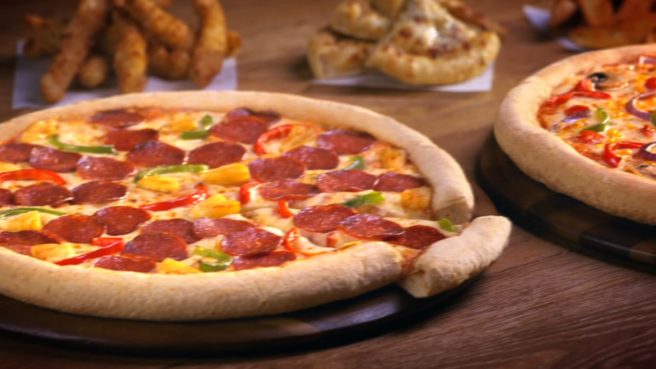 Domino's are heartbroken after Cork lad broke it off over Facebook
We've all been there. Saturday night, not a word from anyone all day, when all of a sudden your phone lights up.
You immediately start planning your outfit and gearing up for the night ahead – but oh wait, it's just Domino's Pizza again.
Is there anything anything more disappointing?
Well, one Cork lad has decided that enough is enough, and although he loves Domino's deeply, the constant texts have got to stop.
Seán Fogarty took to his local branch's Facebook page to let them down easy.
"Look. What had was incredible that night but i cant see you anymore (sic). I want you to know i love and respect you but im seeing someone else now," he wrote.
And the plot thickens.
"I know i said don't worry about them but i have to be honest now. Im seeing Apache Pizza Ballyvolane. They make me feel special. But what we had was special too and ill cherish it always. <3 its not you, its me, and my wallet."
But, determined to be the bigger person, Domino's waited until emotions had settled before dishing out the most brilliant response.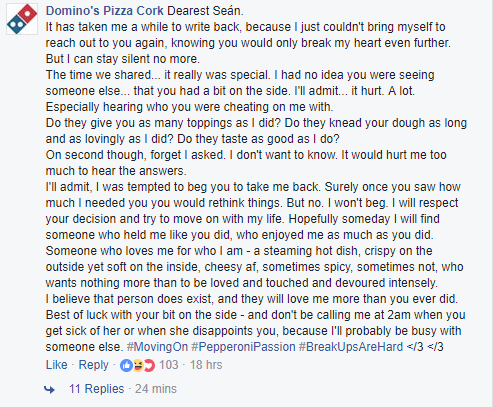 "Dearest Seán. It has taken me a while to write back, because I just couldn't bring myself to reach out to you again, knowing you would only break my heart even further. But I can stay silent no more," they began.
"The time we shared… it really was special. I had no idea you were seeing someone else… that you had a bit on the side. I'll admit… it hurt. A lot. Especially hearing who you were cheating on me with.
"Do they give you as many toppings as I did? Do they knead your dough as long and as lovingly as I did? Do they taste as good as I do?"
"On second thought, forget I asked. I don't want to know. It would hurt me too much to hear the answers.
"I'll admit, I was tempted to beg you to take me back. Surely once you saw how much I needed you you would rethink things. But no. I won't beg. I will respect your decision and try to move on with my life.
"Hopefully someday I will find someone who held me like you did, who enjoyed me as much as you did. Someone who loves me for who I am – a steaming hot dish, crispy on the outside yet soft on the inside, cheesy af, sometimes spicy, sometimes not, who wants nothing more than to be loved and touched and devoured intensely.
"I believe that person does exist, and they will love me more than you ever did".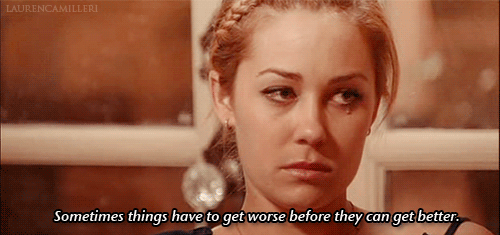 But of course, like all great break-ups, Domino's finished with a little dig:
"Best of luck with your bit on the side – and don't be calling me at 2am when you get sick of her or when she disappoints you, because I'll probably be busy with someone else. #MovingOn #PepperoniPassion#BreakUpsAreHard"
You'll bounce back Domions – we got you!