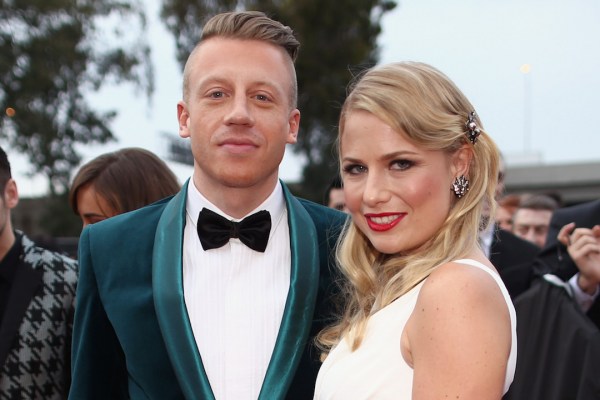 Congrats! Macklemore reveals his wife is expecting baby number 2
Rapper Macklemore has announced that his wife Tricia is pregnant with the couple's second child.
The Downtown singer posted a video to his personal Instagram account where he unveiled the huge news.
He wrote on Instagram, 'Seattle… second time's the charm.'
In the video, he says, "I woke up today and had an idea. You guys have been such a huge part of our lives that I wanted to let you in on a little secret."
The father-of-one then announces the exciting news that their family is about to get a lot bigger.
Macklemore, whose real name is Ben Heggarty, then goes on to say they will be revealing the gender of the baby in the video.
The video is set at a gender-reveal party at the family's home, which has been decorated with pink and blue balloons to mark the occasion.
The camera cuts to a pink and blue cake that has the words girl and boy written on it in icing. The couple are surrounded by their family, who are under the impression that they're about to find out if Ben and Tricia are having a baby boy or a baby girl.
As the rapper cuts the cake he pulls out a piece of card, however, it doesn't have the information we were expecting to find out on it.
The Can't Hold Us singer holds up a concert ticket and laughs as he announces 'We're having a second night at Key Arena. Tickets on sale tomorrow.
The proud dad appears at the end of the video and confirms the news saying, "Tricia really is pregnant though" and winks at the camera.
Ben and Tricia became engaged on January 21, 2013, after seven years together. On January 3, 2015, the chart-topper took to Twitter to announce that they were expecting their first child. They welcomed their first daughter Sloane Ava Simone Haggerty on May 29, 2015.
After a two-year engagement, Ben and Tricia finally tied the knot on June 27, 2015.
He admitted that his daughter is the true love of his life and his muse. Macklemore dedicated his song Growing Up to his daughter Sloane.