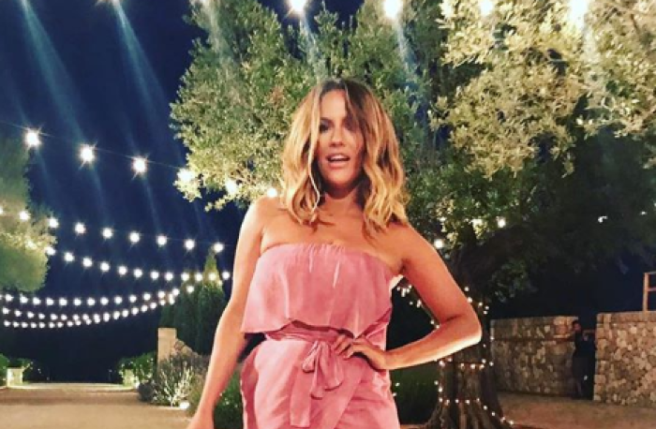 Caroline Flack pens powerful open letter about former flames
Dating in this day and age is an absolute mind field.
We have to navigate and hopefully dodge catfishers, serial ghosters and players – just to name a few.
It may come as no surprise when you reach your 30s, you can look back on your history with 'fond' memories of the trials and tribulations of the dating world.
Our main Love Island hun, Caroline Flack has done just that.
In a candid letter to the "men of her thirties", the presenter gets real about the ups and downs of relationships.
After she detailed the nitty gritty (cough, cough Harry Styles), she paid a beautiful tribute to her fiance, Andrew Brady.
Penning the letter for Cosmopolitan magazine, the 38-year-old said:
"I dated friends and I dated younger men and I dated men who were hopelessly inappropriate and it was all… fun."
"Dating as a thirty-something woman felt more powerful than dating in my twenties – and all you guys made me see that," she continued.
"By your thirties, you've survived heartbreak, you've survived long, messy relationships, you've survived unrequited love and maddening love that leaves you tired and confused and willing to give it all up. Those are important things to have gone through and survived."
"People talk about meeting someone and feeling as though you've known them your whole life. That's what it felt like when I met you… We laugh until we cry. I've never had that before – with anyone.
"Every other relationship I've had has only been about love, but with you it's about friendship, too. It's what I've been looking for," she wrote.
"My life was complete before you came into it – a man doesn't complete your life. But I wanted to make room in it for you. I look at you and I think, Yes, Andrew, you're the one I've been waiting for," she concluded.
Sorry, we were just sobbing.
The pair announced their engagement in April and here's hoping that we'll get just as lucky in love.