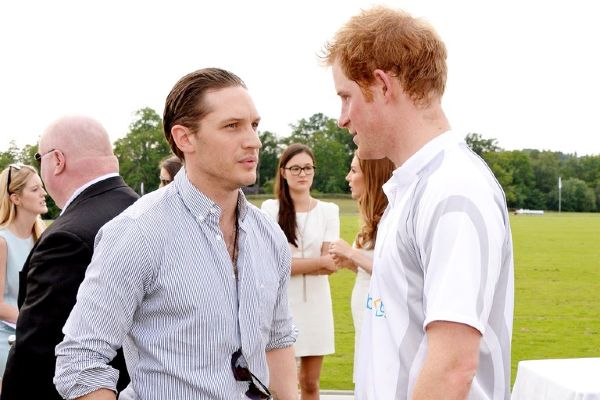 Bromance goals: Tom Hardy gushes about 'legend' Prince Harry
Heartthrob Tom Hardy recently spilled about him and Prince Harry's total bromance, and it is actually adorable.
Tom and Harry have been seen in public before on several occasions and have also been known to do some charity work together.
The English actor has been an acting ambassador for The Prince's Trust, which helps disadvantaged people aged 14 to 30 overcome obstacles and transition into work, education, or training.
His passion may be based on his own troublesome past, as Tom is no stranger to surviving life's darkest depths as a youth.
He told The Daily Mail that he used to struggle with drug addiction himself and has now been sober for over a decade.
"The only thing that saved me through that dark time was acting," he divulged.
Everyone needs a purpose or a passion to push them through the ups and downs that this world throws their way.
Tom and Harry understand that without this focus, it can be easy to lose sight of our goals and let the hard parts of life drown out our potential.
Despite the obstacles thrown his way, Tom has survived into fame and success through his love of acting. "I found that I was good at it, I wanted to make the effort to invest time and effort into doing it.
"These days, I'm lucky enough to do it for a living; and I love it and I learn from it every day."
It is this same driven outlook that he hopes to share with troubled youth in the Prince's charity.
Perhaps it is this shared interest for disadvantaged youths that Prince Harry and Tom share.
In May, Tom made sure to attend the Duke and Duchess of Sussex's royal wedding with his wife Charlotte Riley.
At the time, the actor had been filming Fonzo, in which he plays the iconic role of Al Capone.
And after six weeks of 19 hour days, he flew home the morning of the Prince's wedding day.
He would never miss the most important day of his friend's life. #bros4life
When Esquire asked Tom about his relationship with Harry, all he would say is that it was 'deeply private' and 'Harry is a f****** legend.'
Just last year, Tom co-sponsored a campaign with The Prince's Trust called "Youth Can Do It," which helps build young people's self-esteem.
The pair has also been spotted attending the Audi Polo Challenge cup in London in 2016 and filming a cameo for Star Wars: The Last Jedi film.
The scene was later cut because Harry and his brother, Prince William, were too tall in comparison with the other stormtroopers.
It seems the pair has a bit of bromance brewing, whether this is based on the same charitable passions or a shared Star Wars fandom is hard to tell.
I guess we will just have to wait and see what the compassionate, bromantic duo do next.