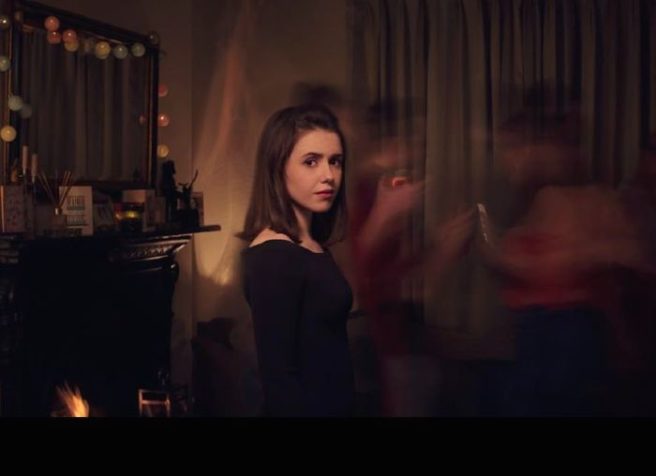 'Audible gasps': This is why you need to see Asking For It on stage
Asking For It is one of the most ground-breaking pieces of Irish literature to be published in a long time.
Since it hit shelves in 2015, Louise O'Neill's novel has been the catalyst in addressing rape culture in Ireland and giving sexual consent a vocal platform.
For those unfamiliar with the plot, Asking For It follows Emma O'Donovan, a fifth year student from the fictional Ballinatoon in Cork, suffers a horrific gang-rape at the hands of her male friends, which is plastered across social media afterwards.
It's aim, as author Louise says herself, is to start conversations of consent, slut-shaming and sexual violence.
The book explores how Emma's family, friends, wider community and of course, how she herself, reacts to the rape and the ripple effects that that fateful night has on everyone in Ballinatoon.
So, how did the book translate to the stage?
Julie Kelleher came up with the idea to adapt the book for stage, a job which was taken on by Meadhbh McHugh in collaboration with director Annabelle Comyn under Landmark Productions.
And what an adaption it is.
It opens with Paul O'Mahony's monolithic set, with it's fantastic use of glass panel buildings that transform into a bedroom, school, party and kitchen.
Emma, played to perfection by Lauren Coe, is by no means a likeable character – she is a bully who belittles her friends.
Her girl group are well cast and fizz with chemistry, with a stand-out performance from Zoe (Venetia Bowe) who is harbouring a painful secret.
The dynamics of female friendship are explored as well as the teenage boys who are cringey in their attempts at overtly sexual banter.
Is this what being on the cusp of adulthood in 2010's Ireland is like?
Sinéad McKenna's lights show glimpses of writhing bodies at a house party along with Jack Phelan's video images of girls in states of distress.
When Emma ends up in a room with the Football Captain, he forces sex upon her – all which happens off stage – with voice-overs of Emma thoughts narrating it.
One of her thoughts is that if she moans, it will end quicker and sure he seems to be enjoying it.
The gang rape itself which happens after is blurred out in a fog of alcohol and drugs, and the first act ends with Emma's parents and brother finding her, unconscious, blistered and bleeding on her doorstep.
She wakes up and sees the events of the night before on Facebook.
It is conveyed by a series of splintered images of naked limbs, with overlapping voices echoing things like ''great sesh'', ''she's a bitch'' ''she was asking for it.'
I was quite shaken by the end of #AskingForIt at the @AbbeyTheatre. Impactful stuff made of material that seems to carry more weight with every passing day.

— Una Mullally (@UnaMullally) November 12, 2018
The second act is an agonisingly slow and claustrophobic build-up to a heart-wrenching crescendo.
The set closes in on a suffocating kitchen, streaked with rain, in which Emma is trapped – as are we as the audience watching her.
It is one year since the sexual assault and we see how it slowly destroying Emma's family.
Mam, played by Ali White, is trying to hold it all together for her ''beautiful family'' but cracks are showing in her marriage to Dennis (Fran O'Connor) who has retreated from his daughter and cannot cope with the trauma she has suffered…and the whispers of the neighbours.
Emma loses her voice for most of this act, with voice-overs letting the audience in on her thoughts as she remains a prisoner in her own home, with no access to the outside world.
She has to cope not only with her own forms of PTSD, but her toxic mother, absent father and brother Bryan, who is the only person that shows any real sympathy and support for her.
The climax, when it comes, is like a valve releasing pent-up tension with lines that evoke audible gasps from the audience as well as sobs that could be heard around the theatre.
Asking For It is not an easy watch – it is 2 hours and 40 minutes of raw dialogue, difficult questions and a searingly honest depiction of modern Irish society and family life.
Tweets like these say it all:
''The stage adaption of Asking For It is SO IMPORTANT. I am in absolute bits. The whole thing is so real. THAT is what is being brushed under the rug for my generation.''
'''They're good boys really, this just got out of hand' #AskingForIt in @AbbeyTheatre is powerful, heartbreaking & unapologetically intense. The audience sobbed silently in solidarity for the second half.''
It runs in the Abbey Theatre, Dublin from 9 – 24 November – please try go and see it, you will not regret it.