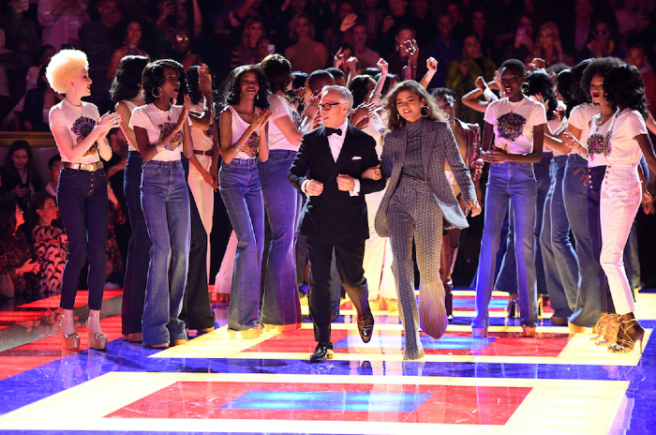 Zendaya and Tommy Hilfiger to bring #TommyNow back to NYC
Tommy Hilfiger is bringing his TommyNow show back to New York City after taking sell-out collections around the world with exciting Gigi Hadid and Zendaya collaborations.
The Fall 2019 Zendaya x Tommy experimental runway event will be debuted on Sunday, September 8 in Harlem, NYC with the global brand ambassador.
The designer made the brave switch from creating traditional collections featuring his own ready-to-wear designs to a series of collaborations back in 2016, but he's ready to come back to NYC.
The shows have gone on the road, with a theme park built in Los Angeles in honour of the Tommy x Gigi and Tommy x Zendaya collections, as well as staging a circus in London and a race track in Milan.
There was even a 'Battle of Versailles'-themed dance floor in Paris, because why not? The blowout parties have been hugely successful, but for their Fall show, Hilfiger and Zendaya are coming back to where it all began.
According to a statement from the brand, Zendaya was inspired to display the collection at the iconic Apollo Theatre in Harlem.
"Zendaya's desire to bring TommyNow to Harlem felt like an amazing next step in expressing her vision for the future," Hilfiger said.
"Her statement-making point of view in everything she does is what makes her such an inspiring collaborator – it is honour to continue to provide her with a platform in the fashion industry to share this."
The dazzling show is set to take place this September, only months after Zendaya's powerful debut runway exhibition.
The 22-year-old Spiderman: Far From Home and Euphoria actress has made a splash across the fashion world, to say the least, with brand sponsorships and ambassador offers coming from all angles.
The likes of Aretha Franklin, Ella Fitzgerald, Patti LaBelle and The Supremes have graced the Apollo stage with their presence over the years, so Zendaya x Tommy has big shoes to fill.
Seeing as the pair already managed to book Grace Jones and a roller disco for their debut show at Paris Fashion Week, we're sure they've got something magical up their couture sleeves.