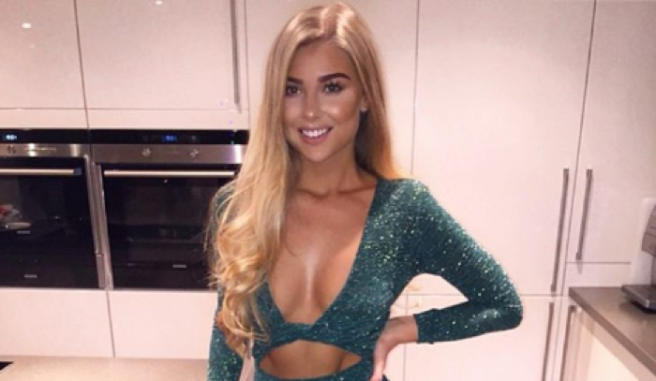 Woman's catfishing ordeal goes viral after MAJOR photoshop fail
We've all seen the MTV show Catfish, but just in case you haven't, catfishing refers to the act of posing as another person online in order to lure people into an online relationship under false pretences.
Some catfish edit photos of themselves to appear more attractive, but most people simply steal other's images and pass them off as their own.
One catfish went the extra mile in the case of Jessica Hunt.
OH MY GOD that is my body and my house but who's face is that!?!? catfish game is getting silly pic.twitter.com/a0fQagwi4q

— Jessica Hunt (@JessHunt2) February 5, 2017
Instagram personality Jessica Hunt tweeted an image of her which had been stolen by a catfish, which for someone with almost 100,000 followers probably isn't a very uncommon experience.
However this catfish had gone to extremes, and had photoshopped what seemed to be their own face onto Jessica's body.
"OH MY GOD that is my body and my house but who's face is that!?!? catfish game is getting silly," she said, in the tweet which has since gone viral.
The hunt was then on to put a name to the photoshopped face.
This is where one Irish online personality who wishes to remain anonymous was dragged into the mix, after savvy online detectives identified the photoshopped face as hers.
The model began receiving torrents of abuse and ridicule as people assumed she was the one behind the catfish stunt.
@JessHunt2 pic.twitter.com/lndax4ZNAM

— Sneakers & Tattoos (@RODakaBOO) February 5, 2017
However, the model denies that she has anything to do with the image, and claims that it is in fact a catfish of hers who is behind it.
She believes that a catfish who has been relentlessly stalking her online for two years is behind the fake picture.
The catfish has previously created multiple accounts posing as the attractive model.
@JessHunt2 what the actual f***, just seen this on tinder ????? pic.twitter.com/g5gsckgNf6

— XXI.II (@LucasPaternott_) February 6, 2017
Jessica and the anonymous model have been in touch with each other over the ordeal, and are both shocked by the actions of the catfish, known only as Amy.
The catfish has since shown up on Tinder in the Essex area using the photoshopped image.
Someone call Nev and Max, ASAP!