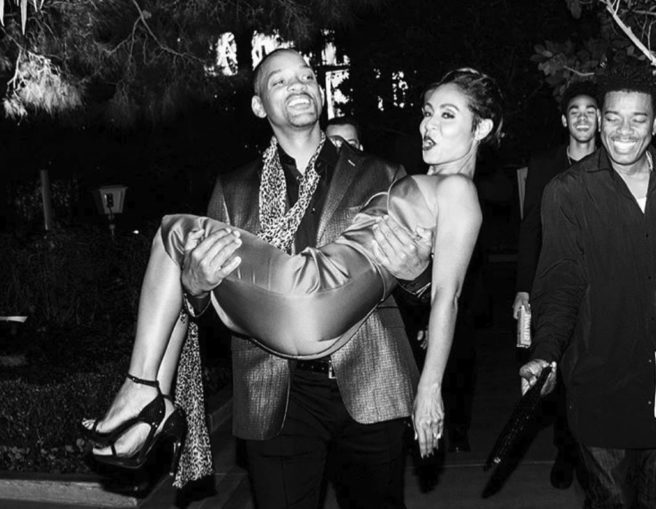 Will and Jada Pinkett Smith are relationship goals in his Insta snap
One of our faveceleb couples have just reached an impressive landmark in their relationship.
Taking to Instagram, Will Smith posted a cute picture of him and his wife Jada, captioned, ''I just realised… This year we've been together more than HALF OUR LIVES!''
Jada quipped back, ''can u believe it? A whole lotta growth and miracles along the way. I'm proud of us."
The pair started dating way back in in '95 and have been married since New Year's Eve 1997. Cuuute.
They also have two kids together, 20-year-old Jaden and 17-year-old I-whip-my-hair-Willow.
The 49-year-old actor recently gave an interview about his marriage to TIDAL's Rap Radar podcast where he let slip a few of his secrets to a happy marriage.
He said, "we don't even say we're married anymore. We refer to ourselves as life partners.''
"There's no deal breakers. There's nothing she could do – ever. Nothing that would break our relationship. She has my support till death, you know what I mean and it feels so good to get to that space where you're not complaining, and worry, and demanding that a person be a certain thing," he continued.
Wow, is all that we can say – can we have that type of love plz?
He wasn't the only one opening up about the inner workings of their marriage.
Jada spoke on Sway in the Morning on SiriusXM's Shade 45 a few weeks ago.
She explained, "here's the thing about Will and I, it's like, we are family, that's never going down! It's just not! Ever!"
"Because we are family – take out all that whole marriage, relationship, crap – at the end of the day, Will and I are family, I'm going to hold him down," she added.
"It doesn't't matter, all that relationship and what people think, ideas of a husband and a partner and all that, man, whatever, at the end of the day, that's a man that can rely on me for the rest of his life, period."
The comments on Will's post show how their fans are fully supporting their #relationshipgoalz life.
''You guys are a gorgeous and admirable couple….and family. Well done and thank you for being a beautiful and inspirational example '' one gushed.
Another wrote, ''it hasn't always been easy but you guys stuck together and figured it out.''
This just goes to show that being (alarmingly) open about how hard you work at your marriage can work wonders for the relationship.
Wishin' you guys another happy 20 years!