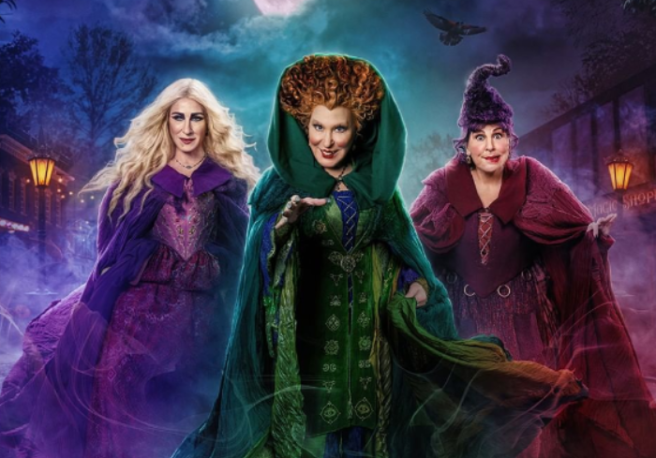 WATCH: The sequel to Disney's Hocus Pocus film is finally out
Hocus Pocus fans have been waiting a long time for this one – the sequel to the hit 1993 Disney film is finally out!
Hocus Pocus 2 has been released today, and is already receiving rave reactions from fans.
To the delight of many, the three original leads – Bette Midler, Kathy Najimy and Sarah Jessica Parker – have all returned to reprise their roles as the witch sisters Winifred, Mary and Sarah Sanderson. Doug Jones is also involved in the sequel, returning as the beloved 'good zombie' Billy Butcherson.
The cast has been expanded with many more famous faces, such as Ted Lasso's Hannah Waddingham and Veep's Sam Richardson.
If you are not already familiar with Hocus Pocus, the first film takes place in the spooky town of Salem and follows the trio of 300-year-old comical witches, after they are accidentally resurrected by a young boy named Max.
Ever since its initial release in 1993, Hocus Pocus has become an annual Halloween movie staple for all ages.
The new sequel very much follows a similar premise to the original. However, instead of sweethearts Max and Allison, three new youngsters fall victim to Salem's witches!
High school students Becca (Whitney Peak), Cassie (Lilia Buckingham) and Izzy (Belissa Escobedo) accidentally cause the Sanderson sisters to return to modern day Salem. Together, the three teenagers must band together, despite their unresolved differences, to figure out how to stop the revenge-hungry witches from wreaking havoc across the world.
The sequel has already gained positive reviews from critics. On the day of its release, the movie is scoring a 69% rating on Rotten Tomatoes, with the critic website citing it as being "a boiling cauldron of nostalgia, but that's more than enough for this belated sequel to cast a reasonably effective spell."
So, if you're a longtime fan of the original Hocus Pocus film, we can guarantee that you will love this revival. Now that it's almost October, it's the perfect time to grab some popcorn, light a pumpkin-scented candle, and get the spooky vibes going with a marathon of Hocus Pocus and Hocus Pocus 2!
Both Hocus Pocus films are available to watch now on streaming service Disney+.