Watch a boy trip and fall… through a €1.3m, 350-year-old painting
We've all done something we shouldn't have – broken a vase, glass or treasured possession.
Sometimes, there was nothing to do but 'fess up; on other occasions… we ran like the wind and later blamed a younger sibling.
But for one boy recently, there was NO WHERE to hide when he caused significant damage to a three-and-half-century old painting, valued at €1.3m.
The 12-year-old was in a museum in Taipei in Taiwan yesterday when he tripped, subsequently breaking his fall by putting his hand through the valuable piece of art: a Paolo Porpora (1617-1673) oil painting entitled Flowers which stands at 2metres tall and which was on loan from Italy.
CCTV footage captured in the incident – and it all makes for rather painful viewing.
In the clip, you can see the hapless young lad following a guided tour when he suddenly stumbles and falls, punching a hole through the canvas. He looks around desperately in the aftermath, before being lead off forlorn by the tour guide.
Focus Taiwan reports that the exhibition's curator, Andrea Rossi, has asked for the boy's family to be excused from bearing any associated restoration costs.
Instead, he is hopeful that the insurance company will pay for all necessary expenses.
Local and international news interest in the incident has been significant – with a smaller copy of the painting being used during a press conference yesterday evening to explain to gathered reporters the extent of the damage (a fist-sized hole currently remains in the canvas).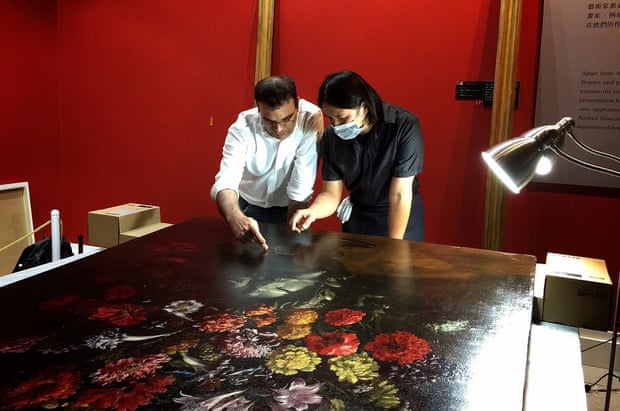 The painting was on loan as part of the Face Of Leonardo, Images Of A Genius exhibition; some 50 paintings by Italian Renaissance artists are on display in the Taiwanese capital.
The accident caused the organisers to temporarily close admissions before reopening yesterday afternoon.
Flowers will be restored in Taiwan by Mr Rossi before being shipped back to Italy.