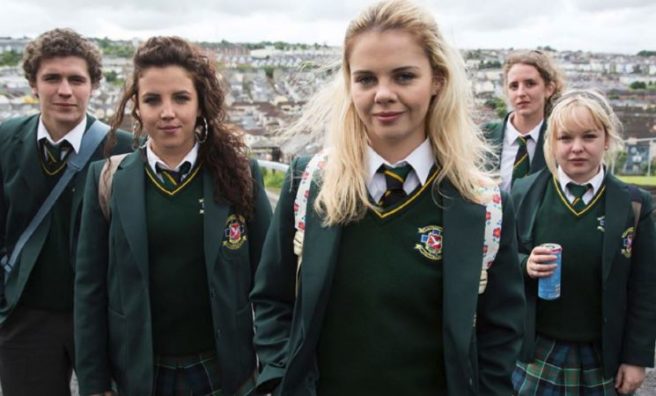 'The blessed smirk': Last night's episode of Derry Girls is trending
It's been three weeks, so if you don't yet consider yourself a die-hard Derry Girls fan, you need to take a long hard look in the mirror.
Having debuted on January 4, the show was an instant hit, but as one corker doesn't make a series, we held our breath and crossed our fingers that the following episodes would retain the same standard as the pilot.
But they didn't. They surpassed it.
From the super-tight script and the laugh-out-loud one-liners to the pop culture references and the classic 90s soundtrack, there seems to be nothing about this show that Twitter isn't here for.
And we'll be honest, if we're not watching Derry Girls, we're reading about it.
#DerryGirls is the best thing on TV at the moment fantastic casting for all the characters

— Prettyboyfloyd (@davc30000) January 19, 2018
@JamieLeeOD outstanding on #DerryGirls funniest thing ive seen on TV , well done!!

— Scott Tait (@scotttait8) January 19, 2018
Well my favorite quote this week for the second week in a row comes from #DerryGirls
"You can't ring ChildLine every time your ma threatens to kill you, Erin."" Yeah, you can't waste Esther's time like that."

— Marie Duffy (@Donegalabu) January 19, 2018
@Channel4 #DerryGirls gets better every week. Spitting my coffee out at the TV this morning

— Ciara Fleming (@Ciara_Fleming) January 19, 2018
You just know that Halloween 2018 in Derry there will be a loads of crazy women running around Derry dressed in green uniforms shouting "hello motherf—-ers"and calling every man in sight a "dick"….no change there then#DerryGirls

— Pure Irish (@SteviePure) January 19, 2018
When you're watching #DerryGirls and someone knocks on the door #FeckOff #ImOut

— Linda cook (@Jivejester) January 19, 2018
"If you lot stopped invading us for five fucking minutes, there'd be a lot less to wade through"#DerryGirls #MichelleGetsTheBestLines

— Niamh McClelland (@niamhomac) January 18, 2018
If you're not watching DerryGirls
You don't know what your missing,
Episode 3 involves dog pee,
(I've never seen such realistic pissing)………#DerryGirls

— Merv D'Perv (@MervDPerv1) January 19, 2018
What a breath of fresh air #derrygirls is. Really funny this week. Great likeable performances too.

— Tweetledumb (@PhelanNick) January 19, 2018
"We haven't even started on the famine yet" ..Michelle"we've got the Gist of it, they ran out of spuds and they were all raging" #DerryGirls

— Séan McCrystal. (@SeanMcCrystal3) January 19, 2018