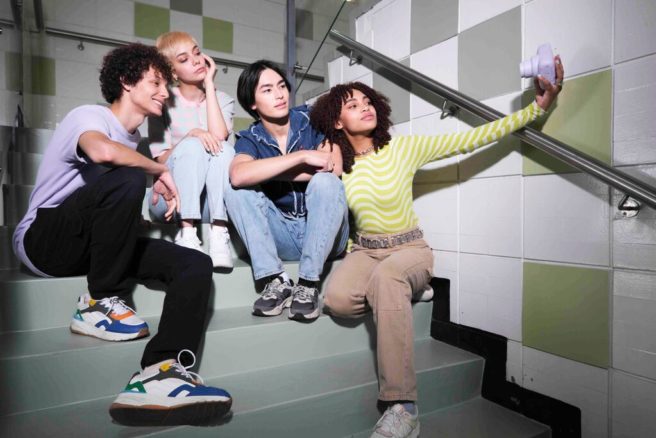 Tried & Tested: INSTAX MINI 12 & INSTAX UP APP REVIEW
Never one to turn down an opportunity to have fun with our friends, this review of Fujifilm's new instax mini 12 was a welcome excuse for a girlie get-together! Armed with a selection of the gorgeous new pastel colour instant cameras and several cartridges of film, we got creative to put these brand new instax mini's to the test.
So, where do we start? The cute design and colours are SHEmazing! There's one for everyone from blossom pink to mint green, even a clay white for the hen party planners. The handy wrist strap is a welcome essential given how toppling over while trying to secure the best angle is not beyond the realms of possibility.
The standout new features of the instax Mini 12 sets it apart from previous versions, including its very own built-in selfie mirror. Perfectly located beside the lens you won't need a second shot to get your best side. Now with close-up mode and an adjustable viewfinder, there's nothing this neat little instant camera cannot do. The automatic exposure and flash sensor controls will adjust to both the bright day light and nights out on the town, meaning every single printed photo scores a 10/10 with no wastage.
We loved the new instax mini heart sketch film which added cute little hearts to the borders of our prints. The speed of printing was also impressive, just five seconds and your moment is brought into the physical world for all to see. The installation of each print cartridge is also effortless, pop open the back cover, align the two yellow tabs and hey presto you're camera-ready! The film confirmation window will let you know that there's film inside, so you don't accidentally open it and spoil the remaining shots. While the film counter window lets us know how many shots are left in the film pack.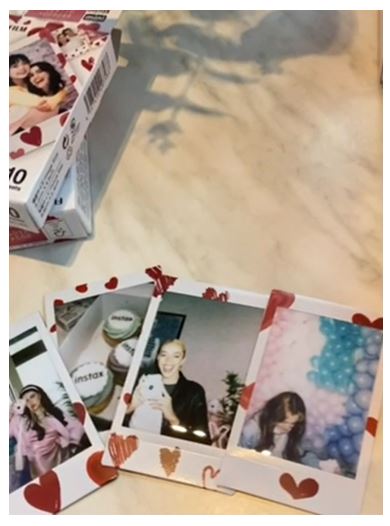 While we tucked our precious photos into our wallet for safekeeping, which was super easy given they are credit card size, there's a whole new way to bank these memories and share them on social. Just download the new nifty little 'instax UP' app to scan, collect and share even more joy. Make a collage, tell a love story or send your photo creations via messaging apps.
Celebrations, parties, loving moments, and smiling friends can forever be accessed from the app and there's some cool photo sharing tools and templates to make your instax pics pop! Just choose the Fun or Classic mode in the settings to set your themes. Any format of instax pic can be scanned on the app from mini, to square and wide. You can even make small corrections to the colour, brightness and remove glares or reflections from your photos with the app. Then simply add the time, date, location, and tag words for easy sorting later in your library.
Overall, we're big fans of the instax mini 12, a cool camera with a nostalgic vibe. What is more you can be sure that every shot you take in the physical can be easily digitised for online sharing through the new instax UP app.
Available from Fujifilm Stockists nationwide. SRP €90.00 or visit www.instax.ie/cameras/mini-12/ for more info.