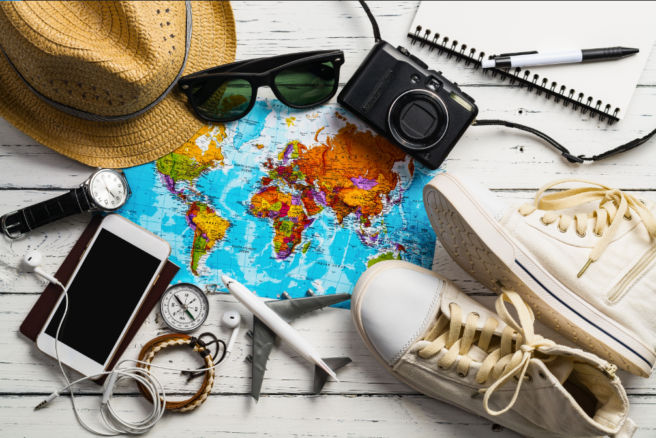 Travel Essentials List for Every Girl Planning a Holiday
Whether it's a girl's trip to a Spanish beach resort or a backpacking adventure through South East Asia, there are a few essentials you can't afford to forget about.
While travelling is one of the most exciting and enriching things we can do, leaving the important items at home has the potential to ruin your trip.
Many of the standards we keep up at home fly out the window as soon as we step onto foreign soil, but there are some things you always need to bear in mind.
From eyewear, to health products, to electronic lifesavers, here's your essential guide to everything you'll need to take with you when travelling, wherever the destination.
Carry-On
Your carry-on bag should always be reserved for the most important items, especially any relating to your health and wellbeing.
That means any medications you need should always be carry-on items, as well as any special equipment or health-related items that you need to function.
It's also a good idea to have some "travel versions" of items that you regularly use.
If you're visually impaired, your best bet is to bring contacts, no prescription needed, along with you in your backpack or handbag.
If you're worried about where to pick some up or have already left for the airport, it's now easier (and faster) than ever to get no RX contact lenses online.
Simply order your contacts without prescription from a trusted retailer and you'll receive them in no time. Similar rules apply to everyday items such as tampons, painkillers and bug-repellent sprays, all hang-luggage material.
Also make sure to pack a change of underwear and any device chargers in your carry-on – baggage going missing is not unheard of and these are things you don't want to be caught without!
Suitcase
Some items can be stuffed into your suitcase to be used upon arrival in your destination.
Make sure to pack clothing for every weather (and enough clothes for a few days at least), as well as however much makeup is needed to get you through the day.
It's also recommended that you pack a towel in case your accommodation doesn't provide one, as well as a sleeping bag liner in order to avoid any nasty surprises in a hostel dorm room bed.
Also make sure to throw in larger liquids such as moisturiser, shampoo, wet wipes (a true godsend) and any other toiletries you can think of, and you will be prepared.
Electronics
The truly savvy traveller knows to take the right electronics on board with them.
Luckily, all you really need is an average modern smartphone, as long as you've downloaded the right apps.
Wherever you're going, consider downloaded apps specifically run by the public transport authorities of your destination. Also make sure to get apps detailing air pollution, temperature, pollen count and local SPV.
You can take steps towards meeting other successful women on the go with popular friendship apps such as MeetUp, so you can expand your global network.
The key to smart travel is looking after yourself. Once the essentials are taken care of, the rest will fall into place.