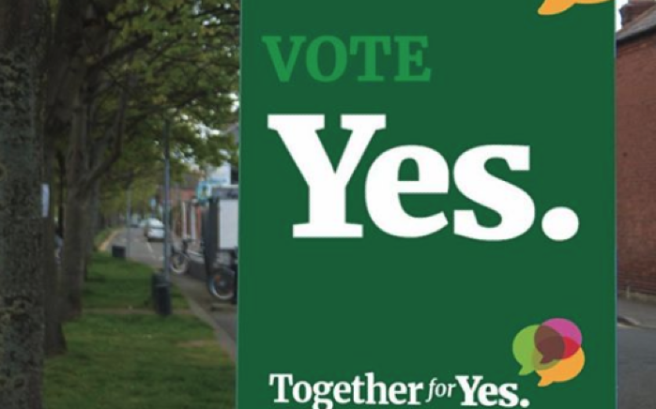 Half a million euro: Together For Yes increase fundraising goal
With a referendum date set for Friday, May 25, canvassing for both sides of the vote is in full swing.
As signs and banners begin to pop up all over the country, Together for Yes, the national campaign to remove the Eight Amendment from the Irish constitution, begain running a fundraising campaign for poster production.
However, after smashing their 50,000 goals in mere hours, the campaign have continued to raise funds for the cause.
The goal has been re-set numerous times, to 100,000, 250,000 and 350,000.
Now, a final figure of 500,000 euro has been set as the goal for the campaigners, who have been blown away at the support for the campaign.
The current amount of funds raised currently sits at €412,000 at the time this this article was published.
We hit €350,000, and we can't stop now!! For the FINAL ask in this crowdfund, will you help us raise €500,000 to get our caring and compassionate YES message into houses across Ireland, with a booklet answering the most common questions people have?? https://t.co/7NZK5JWL9A pic.twitter.com/ikboWFreWg

— Together for Yes (@Together4yes) April 11, 2018
'We are raising €500,000 to continue to put posters across the country, and to fund additional advertising and promotional materials in other key outlets for a positive outcome on the 25th May, reads the description.
'If we raise more than is needed for posters your donations will go towards other ways to fight for a 'Yes' vote.'
Taking to Instagram, the campaigners also wrote: 'A little before 8am this morning, we reached €400,000 in donations, from over 10,790 people.
'We are so amazed and proud that this is still going!! Please keep the donations coming so we can reach our final goal for this crowdfund of €500,000 to spread our caring and compassionate Yes message.'
If you wish to donate to the Together for Yes campaign, you can do so here.