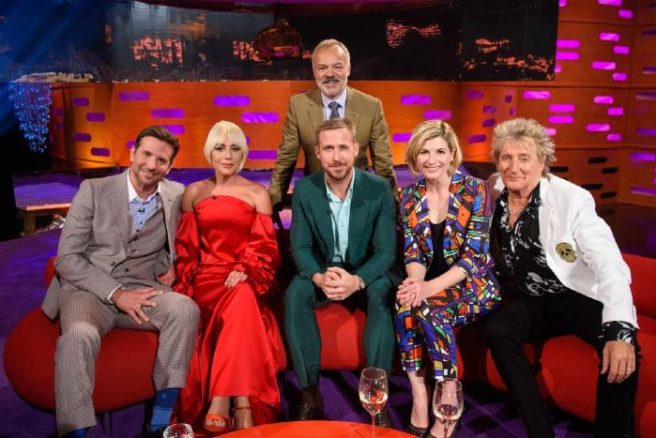 HOT men are on the brand new series of Graham Norton tonight
It's Friday, the weekend and a night made for a deserved glass of wine and with must-watch TV (unless, you know, you have an actual social life).
Our favourite host Graham Norton is back tonight to kick-start a brand new series of his loved show. We've missed you – and your amazing line-up of guests! – in our living rooms, Graham!
Here's all you need to know about this evening's round-up and all the guests who will be appearing – it's going to be SO GOOD.
Two incredible leading ladies will be an appearance on that famous red couch. The ever-talented Lady Gaga will talk all things about her new (already Oscar-hyped) film A Star is Born and formidable actress Jodie Whittaker will talk about her much-discussed role in Doctor Who; she is the first female to ever take the leading role of the Time Lord.
And gals, just wait for it.
Bradley Cooper, Ryan Gosling and Rod Stewart will ALL sit alongside them.
An all star line up on tonights Graham Norton show.

Who are you looking forward to seeing? #ladygaga #BradleyCooper #ryangosling #JodieWhittaker pic.twitter.com/IAIECROsqy

— PA Images (@PAImages) September 28, 2018
We can't deal.
Cooper and Gosling will talk all things film, while Stewart will no doubt push his new album and upcoming UK and Ireland tour (do we really care about the finer deets, though?).
We're saying it – all Friday night plans cancelled.
The Graham Norton Show is on BBC One at 10.35pm on tonight and every Friday.