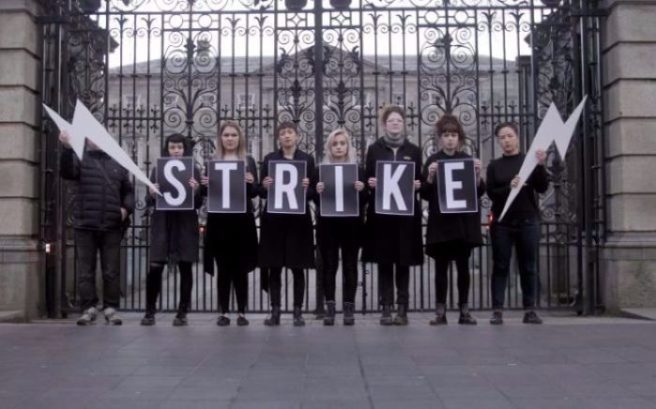 These businesses have confirmed their support for Strike 4 Repeal
Strike 4 Repeal have called for a strike to demonstrate their opinion on the 8th amendment to the government.
The people of Ireland are being asked to strike in support of the 11 women who have to take time off work every single day in order to travel abroad to procure abortions.
#Strike4Repeal is taking place on March 8, which aptly happens to be International Women's Day, and a number of businesses have signed up in support of the strike.
Aungier Danger, the Townsend bar, Bang Bang Café, The Brendan Behan pub, The Elbowroom, A4 Sounds, Nine Crows Street, Rothar and Sexsiopa.ie are among the first businesses to formally support the campaign.
Strike 4 Repeal are asking that the businesses shut down for the day in solidarity, or that the most affected staff be offered time off work to participate in the demonstration.
The group describes themselves as "an ad-hoc, non-affiliated group of activists, academics, artists and trade unionists preparing a nationwide Strike for Repeal on the 8th of March 2017."
The clock is ticking. One month until we #strike4repeal if the government does not call a referendum. pic.twitter.com/SkQcoMQw5D

— Strike 4 Repeal (@Strike_4_Repeal) February 8, 2017
"Our demand is that the Irish government call a referendum to repeal the 8th Amendment by the 8th of March. If not, Ireland will strike," reads a statement on their Facebook page.
"The strike will not be an industrial strike in the traditional sense but could include taking an annual leave day off work, refraining from domestic work for the day, wearing black in solidarity or staging a walkout during your lunch break."
"We also encourage any business owners in a position to close their services at no cost to workers, to do so for all or part of the day as a solidarity action."
#Strike4Repeal #ncadstrike4repeal pic.twitter.com/xzctxCjZLl

— CoupleofWeirdos (@CraigandJane) February 15, 2017
Other organisations which have signed up to support the march include the Abortion Rights Campaign, Aims Ireland, Anti Racism Network Ireland, MASI, Trinity College Strike 4 Repeal Feminist Society, Maynooth Feminist Society, NUIG, NCAD Feminist Society, Limerick Feminist Network, Sex Workers Alliance Ireland, and People Before Profit, according to the Facebook post.
The post calls on any other organisations or businesses who would like to get involved to contact them at strike4repeal@gmail.com.