The wiggle: how this new technique is revolutionising the nail industry
There's nothing more annoying than spending your precious time and money on your nails, for them to be destroyed just days later.
That's why we are SO excited to share a nail secret that we've just been informed of.
The nail industry has just been revolutionised by a simple technique, so you can say goodbye to chipped nails.
Shellac Luxe and the incredible people at CND have let me in on a new technique they have developed called the Wiggle.
The Wiggle gets those nails looking sharp and keeps them on point for two weeks.
It is a new way to paint nails and caps the nail properly to avoid chipping and breaks.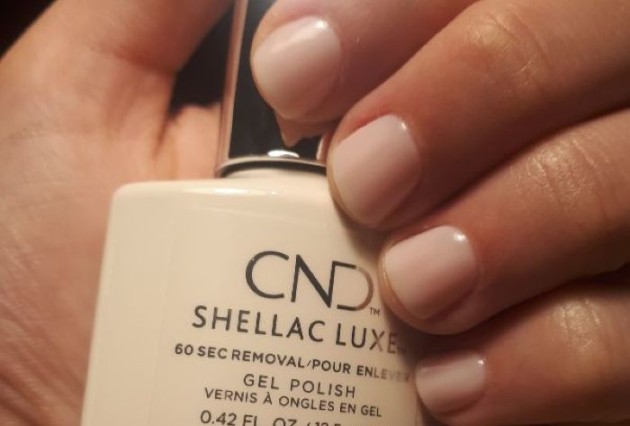 Samantha Sweet of Sweet Squared spoke to SHEmazing about how the Wiggle was conceived with Shellac Luxe, which removes in just sixty seconds.
"Team CND obviously do a lot of training on application…rather than paint a nail traditionally from the cuticle up, they do this wiggle technique, where they are almost going backward on the tip of the nail first, it's almost like you're sealing the edge," she explained.
"The brush in this product is so awesome, that when you actually apply this wiggle technique, it just does this beautiful sweep, then they apply [the polish] normally."
After speaking to the nail goddess that is Marian Newman, she told me all about the way the Wiggle is changing the industry as we know it.
Marian has worked in every aspect of the nail industry, which includes over 50 British Vogue covers to her name and years of working on fashion shows for London and Paris Fashion Weeks – so she knows a thing or two about nails.
"I think the Wiggle technique is amazing," she said.
"With any nail coating, you do have to cap the free edge because the layers end there, so that is where they get the most damage, that's where water can seep and make the layers blow apart, so you do have to cap the free edge," she said.
"And a lot of people cap the free edge but they get polish underneath and if you get any underneath, traditional or gel polish you end up picking it out and then you have broken the seal.
"Everyone knows this is such a fine product [Shellac Luxe] – when I say fine, I mean sophisticated, it's superior.
Marian went on to explain that with the Wiggle technique and using Luxe, you cap the tip of the nail without getting anything underneath, so you don't break the seal.
Marian also added that it's crucial for nail techs to get the wiggle technique down properly, so you get the best results.
"[Shellac Luxe] is thin and you don't get the bulbous piece at the end, it's just an easy way for every nail professional to remember, what to do and get the best possible results because this is very technique sensitive.
"If you don't put it on right, then you're not going to get the best out of it."
Our hands are in front of our face all day long.
Making the effort is worth it, as staring at beautiful nails all day makes us happy.
When asked why they want other nail technicians to lose bad habits, and to adopt the wiggle and Shellac Luxe; The answer was simple – "the integrity of a natural nail."
"We are in the beauty industry, we are not here to trash natural nails. The integrity of a natural nail should be the first priority of a nail technician, keeping those nails beautiful," explained Samantha.
"Now with traditional Shellac and Luxe, you don't need to use an abrasive or a file on the natural nail, so already you haven't done anything to the nail to thin it or anything like that."
"If nail techs stop doing those type of things, and then you've got a product that comes off so easily, so the nail underneath shouldn't be harmed in any way, then you've got a better experience for the customers."
"Clients should not be going to a salon to get their nails trashed, and yet there are so many people that still do that."
Shellac Luxe knows how to treat your nails properly and removes in sixty seconds, leaving behind a clean, healthy nail.
The range has expanded by 15 brand new shades, with Satin Slippers being our ultimate fav.
However, if you're feeling peachy and summery, Charm is your way to go.
If you're walking on the darker, moodier side of life, Dark Cherry (it's a rouge-noire) will be one to get your hands on!