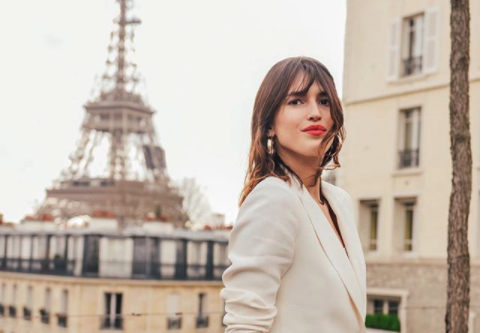 The Paris diaries: The chic brands Parisian girls buy clothes from
Dressing like a Parisian isn't complicated. Think simplicity, less is more, casual with a hint of chic.
When they need to go shopping, Parisian girls love hitting the likes of Zara and H&M, but for statement pieces they have a few brands they love and trust.
You probably have heard of Sandro, Maje or The Kooples, which are all available in Brown Thomas, but we thought you might want to hear more about up and coming houses that truly embody the Parisian style.
Sézane
Founded by Morgane Sézalory, Sézane was France's first online-only label. Famous for their bags and shoes, the brand has a permanent collection which runs through the seasons, made of great staple pieces, like cute everyday dresses or boho blouses. A limited-edition capsule collection is also released every month.
Check it here.
Balzac Paris
A timeless wardrobe made of chic and comfortable clothes working both for day and night: could Balzac be anymore French? This young fashion house based in Paris offers a modern take on the Parisian style, focusing on beautiful design and great quality fabrics.
Check it here.
Sessùn
Founded 20 years ago by Emma François after a trip to South America, Sessùn is based in Marseille but its identity is truly French, urban and contemporary. We absolutely love their brand new wedding collection, incredibly affordable and perfectly on point with the boho trend.
Check it here.
Maison Père
Feathers, furs, embroidery, lace and trimmings give Maison Père it's unique identity. The collection designed by Camille Omerin boasts statement pieces that make a women's style and that she will like to wear seasons after seasons.
Check it here.
Harpe
Created by a mother / daughter duo in March 2014, Harpe is a creative brand that caters to all women, offering ready-to-wear as well as gorgeous wedding dresses, all made in France. We love their romantic and bohemian universe, with a strong focus on craft and detail.
Check it here.
Rouje
Created by Jeanne Damas, one of France's most famous it-girls, the Rouje collection reflects her personality, where sober sophistication meets assumed sensuality. The line reinterprets the iconic Parisian basics: camisoles, mini-skirts, flared jeans and floral dresses.
Check it here.
Heimstone
She might have grown up in Paris, Alix Petit has always had the travelling bug and her collection embody the wide range of her influences, from Australia to Turkey, Island or New York. Her trademark is her unique prints which make her collections so modern and fresh.
Check it here.
Les Petites
Created in 1992 by Isabelle Benichou, Les Petites has made a name for itself with its cashmere jumpers and feminine dresses. The more recent collections play with the masculine-feminine style which make the brand a favourite of Parisian girls.
Check it here.