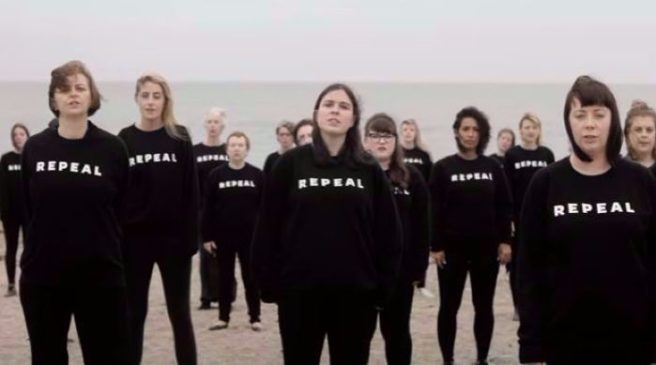 Know Your Repealers hashtag is trending during today's pro-life rally
The All Ireland Rally For Life, an anti-abortion demonstration, kicked off in Dublin today.
As the event is one of the pro-life movements biggest of the year, one would expect Twitter to be flooded with hashtags about the march.
#RepealThe8th counter demo to the anti-choicers in fine voice!! @pb4p @PBP_DublinbayN @thejournal_ie @rtenews pic.twitter.com/rJ0KUHHZl2

— Cllr. John Lyons (@JohnLyonsPBPA) July 1, 2017
While anti-abortion supporters undoubtedly uploaded their opinions and images from the rally under the save the 8th hashtag, a very differet hashtag was climbing the trending charts.
The #knowyourrepealers hastag has been trending all day, as people take to the social media site to showcase the diversity of age, gender expression and lifestyles that the Repeal movement brings together.
People have been sharing their personal reasons for supporting the Repeal movement and project uing the hashtag, and many of the stories are seriously moving.
#knowyourrepealers three generations, "we are the granddaughters of the witches you could not burn" pic.twitter.com/90dzVnypNJ

— amy (@eightieswinemum) July 1, 2017
We don't push #Repealthe8th for ourselves it's so they don't have to fight for the rights they deserve #KnowYourRepealers @ClairieH pic.twitter.com/TgERhghe8K

— AnnaCosgrave (@AnaCosgrave) July 1, 2017
#knowyourrepealers 53 father of 3 living with leukaemia. I love the women in my life and trust them to be free with their life decisions.

— Kenny Sweeney (@KennySweeney1) July 1, 2017
45, single, no kids. Would never have an abortion myself. Have no right to force my beliefs on anyone else #knowyourrepealers #repealthe8th

— Anne Marie O'Connor (@Kitsgirl1) July 1, 2017
Today, #knowyourrepealers is trending. "I don't regret my abortion" – Fabiana pic.twitter.com/d6r8GdViie

— repealproject (@repealproject) July 1, 2017
32, Married, mam of 2 living kids and lost a daughter to #FFA Campaign for everyone to make their own healthcare choices #knowyourrepealers pic.twitter.com/uKZAXa8VKr

— Claire (@DelsolClaire) July 1, 2017
#knowyourrepealers trending, no sign of #RallyForLife. Maybe the rain has cut the phone signal pic.twitter.com/CrumWPeIXq

— Séamus Kearney (@SeamusjKearney) July 1, 2017
Father of three. Can't accept that our current constitution wants to treat my daughter as a 2nd class citizen #notavessel #knowyourrepealers

— Stephen McManus (@zynks) July 1, 2017
Mother of young girls, want them to live in an Ireland they can be free in &have choice in their lives. Free, safe, legal #knowyourrepealers

— Clare Kavanagh (@kavanagh_clare) July 1, 2017
The hastag has been flooded with tweets all day and they're still coming.
The tag currently sits at number three in the trending Irish chart.
The Rally For Life hashtag had not made it into the top trending Ireland Twitter tags at the time this article was published. .