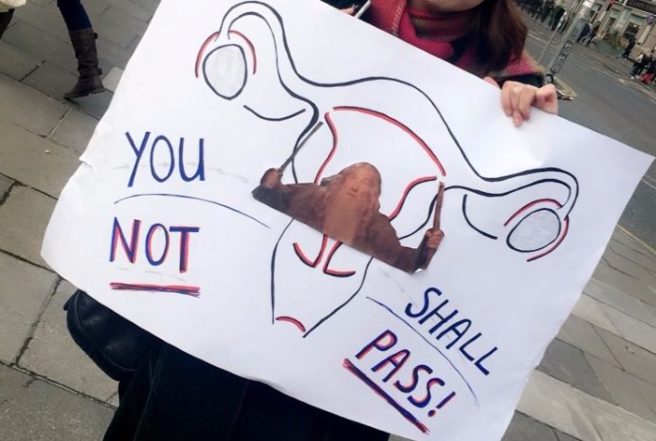 The anti-abortion All Ireland Rally for Life is happening in Dublin today
The All Ireland Rally For Life, an anti-abortion demonstration, is happening in Dublin today, kicking off at 2pm.
Rally for Choice Ireland has called for a counter demo to take place in the city centre during the pro-life demonstration.
We're making our way down O'Connell street for some last minute #RallyForLife promotion!! pic.twitter.com/uGIGbC7D7Z

— Rallyforlife (@theRallyforLife) July 1, 2017
According to the All Ireland Rally for Life: 'Powerful pro-abortion campaigners in Ireland, the UK, European Union and United Nations are attacking our pro-life laws.'
That's why it's so important we show our opposition to abortion and to stay strong for life.'
According to the Facebook event, 600 people are due to be in attendance.
The Rally for Choice Ireland group has taken to their Facebook page to give a reminder to those participating in the counter march today.
'It's important we have a really loud and energetic presence here today.'
'For those who haven't been to the counter demo before, it takes a lot out of you.'
I'll be there to #savethe8th, will you? Sat, 1 July @ 2pm, Parnell Square. Be there to save mothers and babies from abortion #RallyForLife pic.twitter.com/Cys1Fw1kTe

— Rallyforlife (@theRallyforLife) June 30, 2017
'They bombard us with their lies and their desire to control women and pregnant people masked up as faux concern for us becomes all the more transparent increasing our levels of frustration and anger.'
'So today let's look out for each other. They're dwindling in numbers and they know they are, we have no idea what they're capable of so we really need to watch out for each other.'
'We need to stand as one and let everyone know we've had enough of them and their lies.'
According to the counter demonstration's Facebook page, 608 people will be in attendance, with over 1,100 interested in attending.