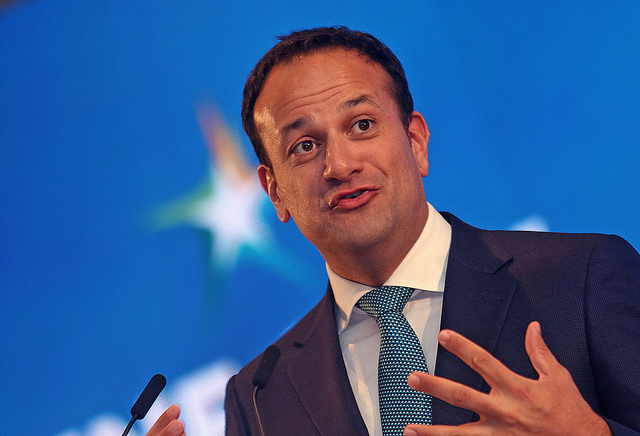 Varadkar says that he sympathises with Trump over media criticism
Taoiseach Leo Varadkar has said that he supports President Donald Trump's criticism from the press.
The remarks were reportedly made at a private lunch held in New York on Monday.
The event, hosted by Irish Consul General Ciaran Madden, was for young Irish workers across various sectors in New York City.
Does Leo undergo some kind of Jekyll and Hyde moment every time he leaves Irish airspace?! #taoiseach https://t.co/RNlirMnOZD

— Cormac Bradley (@cormacbradley) July 4, 2018
According to The Times, when asked what he thought of Trump's attack on the US press, Leo said that the media was not interested in the truth but only in getting a story.
He was particularly scathing of political journalists, who he claimed were more interested in gossip rather than what the Government is actually doing.
Reportedly a heated exchange followed as other members pointed out that the media had unearthed the Weinstein sexual assault allegations among other controversies.
Disappointing lack of leadership from @campaignforleo today – letting the country down on the international stage. Meanwhile @MichealMartinTD is raising homelessness once again in the Dáil. #journalismmatters #taoiseach pic.twitter.com/MNLei9aKKX

— Ógra Ḟianna Fáil (@OgraFiannaFail) July 4, 2018
Social media had a strong reaction to Leo's comments, as some agreed with the Taoiseach while others were outraged that he had sided with Trump.
Some were quick to jump to his defence, saying, ''you can criticise the media while supporting free speech. Taoiseach's points taken out of context imo.''
Others were not so understanding, stating that the whole episode was a ''strange, unsettling criticism of the media by our Taoiseach.''
Mass over reaction &much jaw drops that an Taoiseach aligned himself with the USA president in any way which causes massive offence to our left wing consensus here not just media but society in general which takes offense in being challenged. #Taoiseach #LeoVaradakar

— FergusKeane (@ferguskeano) July 4, 2018
According to RTE News, NUJ Irish General Secretary Seamus Dooley said it was ''bizarre'' that the Taoiseach would side with such a divisive political figure.
Leo later said that his comments were ''taken out of context.''
A spokesperson said that the Taoiseach "believes that a free, fair and balanced press is a cornerstone of our democracy".
Judging by the furore on Twitter, it seems like Leo might have a bit more explaining to do…