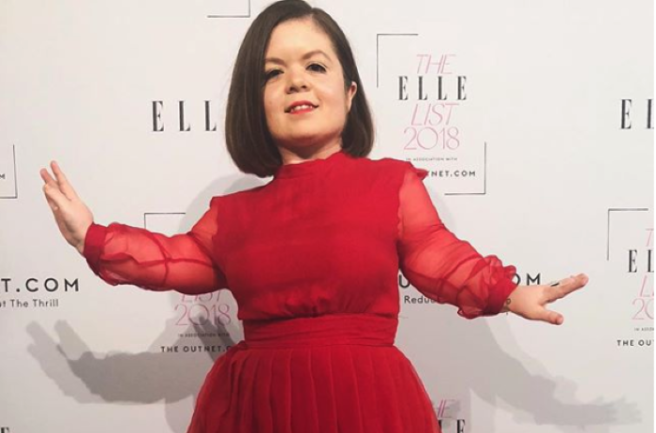 Sinéad Burke is taking the fashion world by storm, and she's starting with her new role as contributing editor for British Vogue.
What an absolute queen!
The Irish activist rapidly rose to fame after her award-winning Ted Talk: 'Why design should include everyone'.
Sinéad aims to make a difference in the fashion industry and has been an avid advocate for the world of design to include all types of people.
In her talk, the speaker demanded that the industry expand its narrowed target market and design clothes with and for disabled people.
I gave a @TEDTalks in New York and it's live today. https://t.co/oIlsqJQg7W #TED

— Sinéad Burke (@TheSineadBurke) June 21, 2017
It seems Vogue agreed, and now, as contributing editor she is already started the movement to make this happen.
Sinéad's first column for the magazine is titled 'Why I Chose To Embrace My Differences'. In her piece, she reflects on her experience as a physically disabled teacher.
She loved that children asked her questions about herself that the adults never would, and she took the opportunity to rewire their thought processes.
"When they asked me: 'Why are you so small?', I answered, 'Why are you so big?'. Confusion meandered across their faces, they'd […] respond with […]: 'I don't know, I was born like this'.
"This simplistic explanation of genetics sat comfortably with young children and from that moment, I was their teacher."
Sinéad goes on to discuss how although she loves being little now, she considered undergoing a painful, limb-lengthening procedure when she was just 11-years-old.
But after a discussion with family and friends she realised that she "was attempting to make [her] differences more palatable" and refused the surgery.
In her article's conclusion, she reminded us "that no one is 'normal'. Life is complex, challenging and full of difference."
We are absolutely ecstatic the Sinéad has taken on this new role as a contributing editor for British Vogue.
The Irish speaker has come a long way from Meath, and we have no doubt that she will go even farther in this world.
Sinéad is a complete boss and we can't wait to see what she does next!