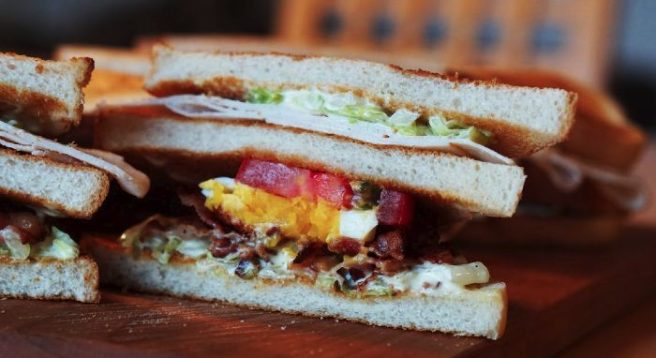 We love a good old sandwich, and you can't beat combos such as ham and cheese or chicken and stuffing. Yum.
So, when journalist, Chris Deerin, came across a rather odd sandwich, he decided to post it on Twitter with the caption, "name a less edible sandwich. I'll wait."
name me a less edible sandwich. I'll wait pic.twitter.com/ceMPhtjJKD

— Chris Deerin (@chrisdeerin) April 26, 2017
The double cheese, onion and salad baguette does sound (and look) quite nasty, however the people of Twitter delivered when it came to naming other rotten sambo fillings.
We're honestly gagging at some of these:
@chrisdeerin I was once at a buffet that served carrot sandwiches.

— Tomos Doran (@portraitinflesh) April 26, 2017
@chrisdeerin pic.twitter.com/heTt09zcFN

— SparkleMonkey (@Sparkle__Monkey) April 26, 2017
@chrisdeerin brie and cucumber

— Gina Davidson (@wornoutmumhack) April 26, 2017
@chrisdeerin pic.twitter.com/wQvSPdH9yy

— Guy Walters (@guywalters) April 26, 2017
@chrisdeerin Here you go https://t.co/la4bNzuS9S

— Jim Millar (@Jim_Millar) April 26, 2017
@chrisdeerin The Belgian sandwich américain trumps many pic.twitter.com/VXJ5WkrxCk

— Hugh Barton-Smith (@hughbs) April 26, 2017
@chrisdeerin I give you: pic.twitter.com/O0xHiLr3cA

— Daniel Pashley (@eurodan) April 26, 2017
@chrisdeerin pic.twitter.com/57JoBc7IXs

— Andy Wells (@MrAndyboy) April 26, 2017
@chrisdeerin In Madrid once, I had a entire sub roll filled with anchovies. Worst sandwich ever.

— Phil Miller (@PhilipJEMiller) April 26, 2017
@chrisdeerin My school served onion bhaji sandwiches at a buffet lunch once

— S m H dgetts (@MavisButton) April 26, 2017
@chrisdeerin My grandmother used to have bolgna and jam sandwich. And cheap jam as well. I still cringe

— Jeff Archibald (@JeffArch12) April 26, 2017
@chrisdeerin One of my students eats Nutella and tomato sandwiches. I'll never understand.

— Lea Maes (@Lea_Ma3s) April 26, 2017
@chrisdeerin Fish paste.

— Ruthie Whyte (@ruthie_whyte) April 26, 2017