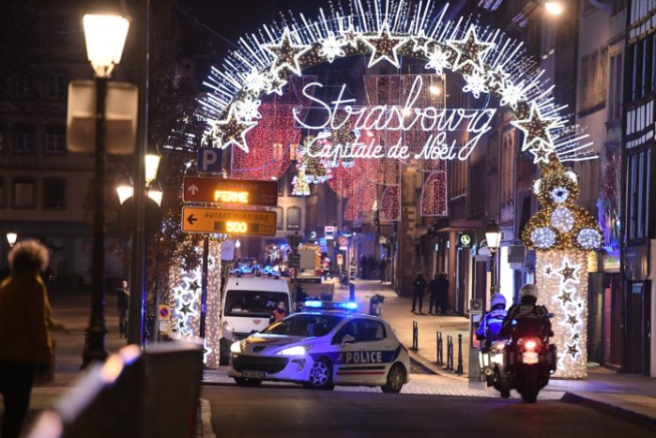 Security forces in Strasbourg have been deployed in the search for the gunman who killed three people and wounded 13 others at a Christmas market last night.
The man has now been identified as 29-year-old local Cherif Chekatt, and there are concerns that the suspect has escaped into Germany.
The French government has since raised the security alert level to emergency and border controls have been highly reinforced.
The attacker was on a known list of extremists who are consistently watched by police, and local officials have confirmed that he is being actively hunted by security forces.
Among the 13 wounded, eight are seriously injured and three of the killed civilians include three Thai tourists.
One of the tourist has been named as 45-year-old Anupong Suebsamarn by the Thai embassy in Paris.
Gunshots were heard just after 8pm in Place Kleber, the market which attracts millions of tourists every year. Crowds of people were forced to flee for their safety.
Interior Minister Christophe Castaner early today claimed France had raised its security alert level, and President Emmanuel Macron has tweeted his sympathies for the victims of the terrorist attack.
Solidarité de la Nation tout entière pour Strasbourg, nos victimes et leurs familles.

— Emmanuel Macron (@EmmanuelMacron) December 12, 2018
Cherif Chekatt was being investigated over an attempted murder, according to Sky News sources.
Areas situated near the Christmas market were sealed off last night and residents were being told to stay indoors.
The European Parliament, based in Strasbourg, was also on lockdown.
France's security forces are already on high alert since 2015 after a series of terror attacks, and are especially stretched due to anti-government protests sweeping the country.
British Prime Minister Theresa May has also tweeted her sincerest sympathies;
"Shocked and saddened by the terrible attack in Strasbourg. My thoughts are with all of those affected and with the French people."
Soldiers who were patrolling the area as part of regular anti-terror operations apparently wounded the suspect after opening fire, but police sources have confirmed his escape.
At least 350 policeman and gendarmes are now deployed on the ground to aid in the manhunt.
An investigation has been opened by specialist anti-terror prosecutors into the Strasbourg incident, with updates still to come on the progess.