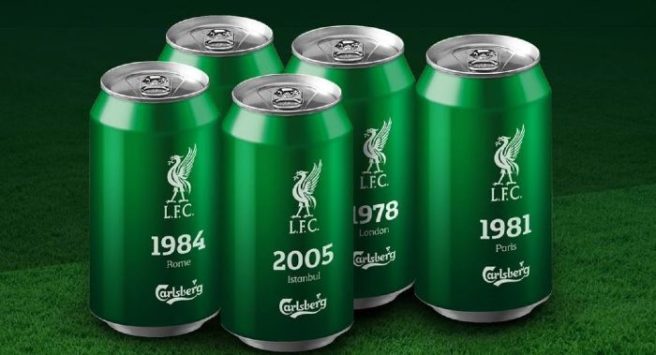 It seems that every day, another company is trying to become more environmentally-aware and it's fab.
The latest to make new moves towards helping our world be a better place is the leading beer company, Carlsberg.
They obvs use a lot of wrapping and plastic in their six-packs, but no more!
What's the solution, so?
Recyclable glue!
In pursuit of always doing things better, #Carlsberg now announces Snap Pack – the new multipack without plastic wrapping – along with a number of other #sustainability innovations. Very proud of this and the team that has worked so hard on this for years! #beerbiz #TowardsZERO https://t.co/2bDbwtU8Lo

— Anders Bering (@abering1) September 6, 2018
From now on, the cans will be held together by this glue – pretty cool right?
When the new multi-pack of beer cans arrive, it will be a world first and it is set to cut back the Danish brewer's use of plastic to package by more than 75%.
Called "Snap Packs", they have spent three years in development and are strong enough to make it unscathed from shelf to home, but will break when twisted.
Brits will be the lucky ones to debut the eco-friendly packaging innovation as Carlsberg has chosen the UK market, as it consumes 30% of its beer yearly.
The World Wildlife Fund (WWF), is a big fan of this new development and has hailed it as a "big step" in efforts to tackle the deteriorating situation regarding plastic pollution.
Well done #Carlsberg – Probably the most #EnvironmentallyFriendly beer in the world! https://t.co/6WFlorQSRD

— John Pritchard (@johnp_wales) September 6, 2018
The company will reduce its plastic use by 1,200 tonnes a year, i.e. 60 million plastic bags once the ''Snap Packs'' are rolled out.
As the plastic rings can trap birds and animals, this issue is serious.
Bo Oksnebjerg, secretary-general of WWF Denmark said in a press release that, "our wildlife is drowning in plastic. We, therefore, need to act now. We need less plastic to end up in nature. That is why we consider it huge progress that Carlsberg is now launching solutions that significantly reduce the amount of plastic in its packaging."
So, we can now buy a six-pack of beer without harming the environment?
Count us right in.