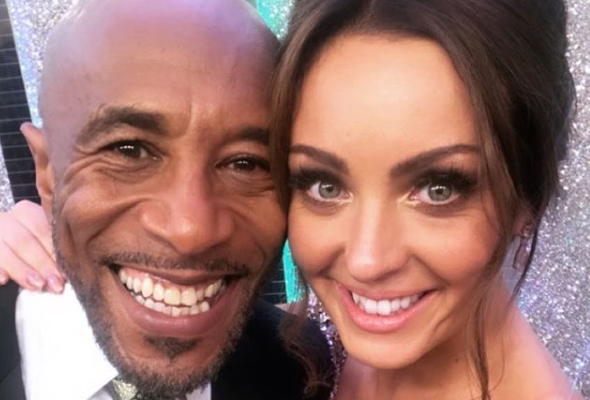 Strictly: Danny John Jules slams BBC bosses over 'bullying'
This year Strictly is deffo not short on dramz.
Fresh off the heels off the Seann Walshe/Katya Jones kiss, we now have actor Danny John Jules facing reports of bullying his dance partner, Amy Dowden.
The 58-year-old has come under fire over claims of abusive behaviour, with reports of angry outbursts taking place in the training room that had left Amy in tears.
However, now Danny has taken to social media to suggest that it is the BBC themselves that are guilty of intimidating behaviour.
Reports emerged last week that the actor had been swearing and shouting a lot at Amy during rehearsals.
Strictly bosses told Danny they would not tolerate any more bad behaviour in recent meetings.
The pair appeared on spin-off show It Takes Two to address the claims.
Amy said, ''things did get a little bit intense the other day in rehearsals. But you know what, we took a half an hour break and get back straight to it.''
She continued, ''I've never felt bullied or threatened by Danny I really want to get this man to Blackpool and then to the final.''
What did Danny have to say?
''I would never bite the hand that feeds me, it's the best dance we have done in the past couple of days since we have been on the show. And I'm just happy to go along with it. She's the boss, she wears the pants. Why would I argue with a Welsh woman?''
However, now he has hit back at the BBC, tweeting, ''#FakeNews is in the mouth of the beholder'" along with a face palming emoji.
Fans were quick to comment, some defending Danny.
One wrote, ''she said she never felt threatened by him. So how does that equate to bullying? Don't exaggerate things! Drama queen.'
His wife, Petula, has hit out at the bullying claims, tweeting, ''wow BBCstrictlyPR and BBCstrictly are really throwing Danny John Jules under that bus…I'm in shock…why are you trying to destroy him?''
Strictly Come Dancing: The Results continues at 7:50pm tonight onn BBC One.