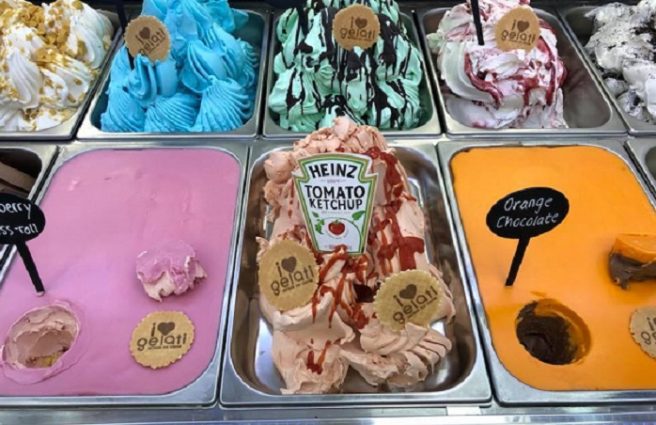 Ketchup flavoured ice-cream is now a thing thanks to THIS celebrity
An Irish ice-cream shop has officially crossed the boundary between dinner and dessert.
Gelati, which has shops in Ballina and Eniscrone, has created a ketchup flavoured ice-cream.
Yes, you heard us right, tomato ketchup flavoured ice-cream.
And they're not just doing it for the craic, the saucy treat is in honour of Ed Sheeran's current tour around our fair isle.
It's a well known fact that Ed is absolutely obsessed with Heinz ketchup, even going so far as to have the label tattooed on his arm.
Now that's dedication.
"We at Gelati Ice Cream decided to welcome Ed Sheeran back to Ireland by creating his favourite flavour: Tomato ketchup!" they wrote on their Instagram.
The also announced that they would be giving away free ketchup ice-cream cones to all concert goers. Pure madness.
Speaking to People, Gelati owner Micheal O'Dowd said that he hoped that the Galway Girl singer will stop for a taste!
"It took a few attempts to balance the recipe," O'Dowd said. "Otherwise it would melt straight away."
Known for their artisanal gelato, added the ketchup dessert to their range of award-winning treats like Pistachio and Gin and Tonic.
We'll take five please!