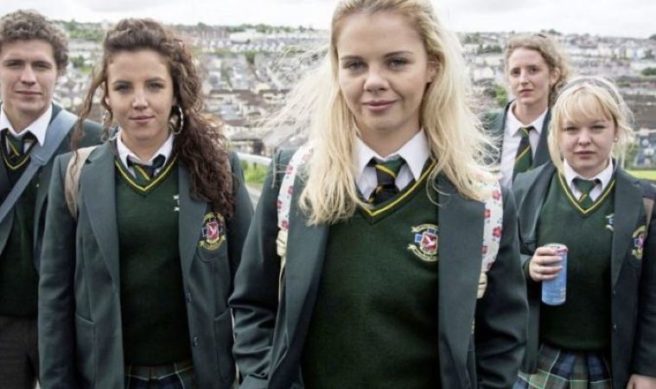 Officially obsessed: Viewers call for hour-long Derry Girls episodes
If you gave Twitter even a passing glance in the hours that followed the first episode of Derry Girls last Thursday night, you'll know it went down an absolute storm.
And if you took a look today, you'd know that the nation is now officially obsessed with Channel 4's latest offering.
In fact, viewers are already calling for longer episodes of the comedy series which follows 16-year-old Erin and her band of mates as they navigate secondary school life under the watchful eye of the nuns, and to the backdrop of The Troubles.
Thankfully, confirmation has arrived that the series has already been commissioned to return for a second season, but we'll be honest, we want more than just that.
We want 60-minute episodes, we want a movie, we want to be best friends with Michelle…
RETWEET if you want series two of @Derry_Girls to have hour long episodes.#DerryGirls

— Derry Girls (@Derry_Girls) January 11, 2018
You have to go to an hour long! Funniest show on telly #derrygirls

— Patrice Devine (@DevinePatrice) January 12, 2018
On behalf of the Northern Irish public I think we should petition for #DerryGirls to be an hour long ep x

— Shannon. (@shannonsmillie) January 11, 2018
Half an hour feels like five minutes when your laughing so much. Make it an hour

— Clare O'Kane (@Cokane00) January 12, 2018
YES YES YES YES YES YES to one hour long episodes

— Caz willoughby (@Cazwilloughby) January 11, 2018