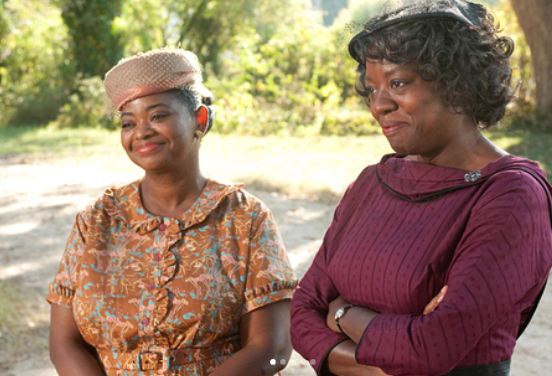 Octavia Spencer and Viola Davis celebrate The Help's anniversary
It's been seven years since one of our favourite movies was released in cinemas – The Help.
Set in America's deep south at the height of civil rights in 1962, the movie explores the role that the black maids had in bringing up white children and one woman, Skeeter (Emma Stone) who writes a book exposing the injustices in her Mississippi hometown.
It seems like it was a movie that stayed with a lot of it's stars as many of them took to social media to celebrate the anniversary of the fantastic flick.
Octavia Spencer, who nabbed an Oscar for her portrayal of hilarious maid Minny Jackson, wrote a lengthy post on instagram, thanking the movie for changing her life.
"What I personally learned from the entire process in preparation for this role was: it doesn't matter if the glass is half empty or half full. What matters is if you own the glass,'' she wrote.
She continued, ''Minny, Aibileen, and all the other maids didn't own the glass. They didn't have the luxury of deciding to be positive (half full) or negative (half empty) as society decided for them. #agencyisTheKey #TheHelp."
Based on the bestselling novel (if you haven't read it yet, definitely do) by Kathryn Stockett, the movie grossed $216.6 million at the box office and went on to become the first film in almost a decade to top box-office charts for three consecutive weekends and later for 25 days in a row, which was last seen in 1999.
Pretty impressive, right?
Also dedicating a post to the movie was Viola Davis, who played Minny's fellow maid Aibileen Clark and was also nominated for the best actress Oscar for her role.
She wrote, "it changed our lives. What an experience. My takeaway? It was the deepest, most intimate, joyful time I spent in the company of women. We are powerful together. The audience received the overflow of the love that we had for each other."
The fans were out in force, showing their support and commenting, 'easily one of the best films I've ever seen. Full of emotion and a true mirror of society.''
Another said, ''this awesome movie that also changed my life. I don't know how many times I've watched it. I love Minny and Aibileen, they inspired me to be better everyday.''
We know what we're watching tonight with a glass of vino – happy anniversary, The Help!